---
Date: Fri, 17 Nov 2006
From: Merle Kessler
Subject: Donny and Marie
Hi there...
Your e-mail categories are confusing, so I hope this reaches you. I LOVED your Donny and Marie thing- not only did you present the wonderful original document, but your wonderful take on it as well.
Fabulous. Thank you.
Merle Kessler
muchisimas gracias. appreciation of the true inner meaning of donny & marie seems woefully unappreciated by the younger generation(s).
---
From: Garrett S.
Subject: Bombay beach questions
Date: Thu, 16 Nov 2006
I saw your pictures and read your adventures through the Salton Sea. I really loved the pictures of the sunken cars and RV's in Bombay Beach. I was wondering if you have an address I could look up on google maps or if there s anyway you could send me a google earth marker of where the cars are located in Bombay Beach. Loved the interview with Leonard Knight by the way. Thanks for your time.
i don't know whether the cars are still there--those photos are ten years old (and they were real photos, too, none o' this namby-pamby digital stuff, like i am so glad i can take now, and not have to scan them). anyway. bombay beach isn't hard to find; get yourself a map of the salton sea & you'll find it on the eastern shore. be careful. you could sink.
or perhaps you'd rather sink into a comfortable chair and watch plagues & pleasures on the salton sea. quality entertainment, plus you won't get dead fish parts on your shoes.
---
From: Michelle C.
Subject: you keep rocking
Date: Tue, 7 Nov 2006
The second coming et worst …..
Are awesome!
Its been a long time since I visited and Im also glad to see more super amusive play items…
it must be a lonnnnnnnnnnng time since you've visited.
Yes it has - I decided to change careers and become a highschool teacher. That takes up more time than I thought and I found that I have a bit less time to surf...tat is unless I make a concerted effort to use my time less efficiently and I've always thought what better way than with Deuce....awww..
---
Date: Tue, 7 Nov 2006
From: Doctor Cliff
Subject: "the dispatcher"
first off, creepy as hell- i haven't been by DOC in ages.
yeah thanks, pal.
so today i'm bored at work and i start sniffing around the net to see if there's any new rumors about urgh! being issued on DVD.
i wish. i read something about the way the deal was made for the picture that would require a new agreement with every band. doesn't seem likely. there are bootleg, home-made copies out there, though.
ended up getting a black flag re-issue CD, reminiscing about how once i na while in l.a. you could see great but diverse bands on the same bill, like black flag and the cramps.
then i wander over to DOC and see you writing about the cramps and referencing urgh!
and capping it with a dr cliff story. howsabout that?
get out of my head.
no problem. just a couple more plug wires to disconnect . . . done.
reading 'the dispatcher' reminded me of [name deleted, in the interest of non-interaction with organizations based upon force. -- doc]. damn near 20 yrs ago, he was a ucla student and worked part-time in parking services. this involved standing i the kiosk, taking the five dollars, putting the sticker on the windshield (repeat ad mortem). then he and some other smartasses figured out that the walkie-talkies could be entertaining (mind you, there's prolly 30 kiosks on campus, and several cars, and the big HQ, all w/radios).
"strathmore, do you have that roll of tape?"
"tape?"
"you know, that big roll of tape, like we use to tape stuff together."
"the black tape?"
"no, that's electrical tape. hilgard, you have that TAPE?"
"tape?"
"yeah, that big clear roll of tape. you have it?"
"no, we been using staples all day. who's go tthat tape?
"mobile 4, can yo urun to hilgard and get that tape? i need it over on gayley."
"mobile 4. tape?"
"yeah, i need you to go get that tape from hilgard."
"okey, hilgard, i'm coming over to get that tape for gayley."
"this is hilgard. i told gayley i don't have that tape."
"you mean the clear tape?"
on and on for 20 minutes at a time. funny when only 2 or 3 of the folks are in on it.
haha! nice. reminds me also of when professor cardyhouse & i would mess with people on IRC channels, especially the people trying to play jeopardy with the alexbot
---
From: Maureen L.
Subject: OMG! You have Slim doing Paloma!?
Date: Fri, 27 Oct 2006
This discovery gave me the vapors.
deuceofclubs.com is, for some, like smelling salts. the cause and the cure. selah.
I have scoured the globe, and cannot find that tune — and there you are with a sample! Do you have a full version? If so, what can I do for you in exchange?
consider it a free service (although free services in exchange are not frowned upon here at deuce of clubs hq)
I think I shall find no peace until I can listen to it incessantly for a few days, to exorcise this demon seared deeply into my consciousness from my tender, formative years.
let me know how that works out for you.
---
From: Gary H.
Subject: "666" Medicine
Date: Thu, 26 Oct 2006
A suggestion for the "666" cough medicine story. Sounds like a hit for A Prairie Home Companion? Maybe submit it to Garrison Keiler?
you think? i would have thought it was more in the orbit of ira glass & this american life. . . .
---
Date: Tue, 24 Oct 2006
From: Kerry K.
Subject: god damnit
i was just looking at your website and I am fucking jealous as all hell that you met richard FUCKING simmons.
nanner nanner boo-boo
you know he's from new orleans.
i did not know that.
we would have had lots to talk about.
richard simmons always has lots to talk about.
I love that little guy. say what you will about him, he helps people
believe me, upon meeting him, i underwent a richard simmons conversion.
and those damn old infomercials he had made me cry every single time.
LOOOOOOOOOOOOOOO-ZURRRRRRRR
he might be the only person in the world who could get me to work out. maybe.
if you moved to LA, you could work out with richard simmons anytime you felt like it. twelve bucks. that's it. twelve bucks & a towel.
was he just the nicest guy ever? he seems like he is the same in person as he is on tv.
he was better than that, because he almost parodied himself and satirized himself. simultaneously. that rules.
that does rule when people do that. thats also kinda why i like pam anderson. she makes fun of herself all the time. she gets that she's a joke and seems cool with it. that rocks. i know he's crazy, but he seems like he is just a good guy who gets made fun of alot cause hes so wacky. i like him.
he kissed me.
I KNOW HE KISSED YOU! Thats AWESOME!!! I already told you I am jealous. you dont have to rub my face in it, mr kissy kisserton.
why did you make that face all blurry?
i didn't. The Ring did.
---
Date: Sun, 22 Oct 2006
From: Kim S.
Subject: HTML Graph
What's up DOC?
My current means of keeping myself busy is learning java. A slow but fulfilling process, kinda like reading Hemingway.
excellent analogy.
Anyway, searching the web for bits & pieces of code to peruse, I came across this site. This guy's applet reads a web sites HTML code and creates a graph that is visually appealing yet technically useless.
. . . much like DeuceOfClubs.com itself (except for that "visually appealing" part).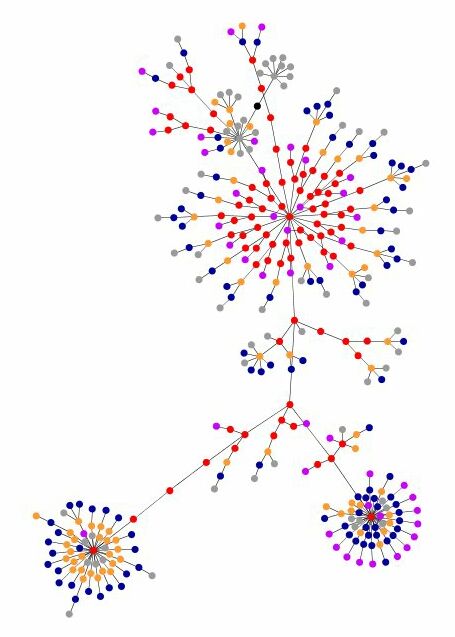 man. my website is a MESS.
---
From: Tim H.
Subject: Plagues & Pleasures
Date: Mon, 23 Oct 2006
Caught this last year (or was it the year before) at the Milwaukee International Film Festival. Absolutely loved it. Recommended without compunction.
---
From: Robb L.
Subject: Whaaaaa?
Date: Wed, 18 Oct 2006
"17oct2006— Diane Rehm . . . Tom Brokaw . . . Barbara Walters . . . John Melendez . . . Mel Tillis . . . Robert F. Kennedy, Jr. . . . Rita Cosby."
I so totally don't get it.
I Wiki'd and Wiki'd and Wiki'd and I couldn't figure out a connection. What gives?
i was going to make a comment, & then thought it would be superfluous.
---
Date: Wed, 11 Oct 2006
From: James B.
Subject: Unimaginitive City Names
I just saw your "City Names" List, and I had a few to add, although they don't technically follow the "named after a state rule." How about looking at some maps of Illinois, where we have the Rock River. Then look at all the names that have "rock" as part of the city. For starters, there is Rockford, Rock Island, Rockton, Rock Falls, Rock City, Flat Rock, Rock Run, Big Rock, Cave-in-Rock (also a park with the same name) and Green Rock (now assimilated into Colona). There are also several State Parks such as Rockwood, Starved Rock, Buffalo Rock and the aforementioned Cave-in-Rock. If this isn't unimaginitive, I really don't know what is; I really enjoyed looking at the site.
rockford i know from cheap trick, rock island from "rock island line." illinois sounds like a rockin' state.
someone should drop a rock on me, for going for that one.
---
Date: Tue, 3 Oct 2006
From: harold y.
Subject: Hobo Joe's Restaurant
Doc
I was driving down the road today with my mind in neutral, thinking of nothing in particular and all of a sudden the thought of the Hobo Joe's Restaurant on Scottadale Road in Scottadale, AZ just popped into my mind and man did the memories ever come flodding forward from there.
As a greenhorn kid (I was 14 at the time) from the beautiful Ozark Mountains in North Arkansas I got the opportunity to fly from Little Rock to Phoenix and spend a month with my Brother, Lee, who at that time Owned Scottsdale Towing and needless to say, I jumped at the chance.
At that time there were, I think only three new car dealers in town (Paradise Ford, Madison Chevrolet, and Jack Johnson Plymouth--like I said these are from memory some 40 years later) and Lee had most if not all of their service calls plus most of the calls from the Police Dept. I said all of that to say this. I went with him on all the wrecker calls he made while I was there except one and as you can guess, we made many memorable stop at Hobo Joe's.
I have so many vivid memories of the Hobo Joe statue standing proud and tall right there on Scottsdale Road--and of course my mouth still waters at the thought of the delicious meals, desserts and hot coffee that I was blessed with in my month there and that's not to mention the superb service as well as the pleasant atmosphere inside.
Somewhere in my collections of 'stuff' I have a small complimentary menu that I managed to get back to Arkansas with.
The bottom line is when I got home this afternoon I went online and typed in Hobo Joe's Restaurant and found your website.
All I can say is Thanks for the memories!!!!!
---
Date: Mon, 16 Oct 2006
From: jess
Subject: Sweatin' to the oldies
Dude, is that you under the Ring-esque facial blur? If so, you are more buff than I'd realized. If not, you have hella buff friends (I include here Daniel and his tiny shorts).
i do have some buff friends.
Jack Diggle is an awesome dog.
so far, people have not been writing praise and worship songs about him. it is but a matter of time, i think.
---
Date: Wed, 27 Sep 2006
From: T. Contreras
Subject: UNA PALOMA BLANCA SONG
About UNA PALOMA BLANCA spanish version that was in the radio aroud 1975 year, was the version singed by : LA FAMILIA DEL VALLE group. Im shure of this, because I am one of the original singers of the Spanish and famous version. If you want the original spanish letter of this song, and more information about it, please let me know..
I hope to hear from you soon.
I'm Mexican and I live in Guadalajara, Jalisco MEXICO.
I'pe too, you've underdstood my English......
Bye.
si, por favor, i would LOVE to hear more, in any language whatsoever, about your experiences recording that song. muchisimas gracias.
---
From: Charlie H.
Subject: I have an album of Jenkins.
Date: Fri, 22 Sep 2006
I found an old album of Florence Foster Jenkins. It was in a thrift shop. Sorry,but I laugh so hard at that off-key chicken voice! Feel free to write to me about it.
i've never encountered an especially on-key chicken voice, so i think you have to give madame jenkins credit for that, at least.
Actually-I do. Having guts like that to perform and pay her rich friends to come takes a lot of pluck.
pluck? is that a chicken crack?
---
Subject: A request from a "Web Surfer" in search of more information on Carl Clapp
Date: Fri, 22 Sep 2006
From: Bob W.
Doc:
I have a friend who recently received a signed Carl Clapp painting of a Cotton Boll. He asked me what it was worth. We grew up in Casa Grande when Carl was painting and selling Ag Fertilizers. I searched the web and ran across your page on Mr. Clapp's painting of cowboys.
Do you know where my friend should be looking in order to determine the value of this painting?
I (we) sure could use some help here.
Thanks for anything you could do for us.
bob, i wish i had some info for you. all i know about carl clapp, i read on plaques at the rex allen museum. that museum would be my best guess for a starting point for the info your friend wants.
That's more than I had. Thanks, Doc.
---
Subject: PLEASE READ DON'T DELETE!!!!!!!! HELP!!!!!!
Date: Thu, 21 Sep 2006
From: Jonathon
Dr. Drew I have tried calling you on loveline with stryker and every night they tell me they are not taking calls about my subject. This is a long story but I will make it as short as possible. I married a girl that grew up in what I think you would call a broken home. Her mom is a raging alcoholic and dad was addicted to heroin along with many other drugs. I was in the army stationed at [DELETED], KY and met my wife in Kentucky and I don't know what I got myself into. She was so screwed up but I almost felt like I had to help her get out of that home and her life. She had 2 boys of her own and now we have a daughter of our own of 4 months. She Is 23 yrs. Old and I am 25. she was addicted to Loritabs and oxycotton I try so much to help her and then she started to go to a methodone clinic and now she seems like she is worse than when she was on the pills. Her attitude is so bad towards me and the kids and I asked her to please go to an inpatient rehab and she gets so pissed off cause she says she don't have a problem. She has always been in abusive relationships before and I am that nice guy who tried to rescue a girl who needed help and now I cant bring myself to leave her cause I would feel so bad cause she has no education and on top of that I cant let my daughter go with her if she was to leave cause she cant support herself and is neglective to the kids. I don't know what else to do PLEASE LET ME KNOW ON THE RADIO SO I CAN CALL YOU OR JUST TALK TO ME I LISTEN EVERYNIGHT I LIVE IN [DELETED], KANSAS AND LISTEN TO 98.7 KFH TALK RADIO FOR GUYS. PLEASE DREW I RESPECT YOU AND STRYKER SO MUCH AND I WOULD LOVE TO CALL AND TELL YOU MY STORY AND GET SOME FEEDBACK. I REALLY NEED IT.
judging by what you write, my professional diagnosis is that i am shocked that you are not writing emails to The Mandible.
---
Date: Wed, 20 Sep 2006
From: Bob F.
Subject: The Mandible gets a star
Was Wagner there? Maybe he should pay a visit sometime.
if only i'd known. and i was just in LA, too. wagner would love to meet her mandibleness. and the feeling is mutual, i am certain.
---
Date: Mon, 11 Sep 2006
From: Jennifer W.
Subject: Practicas cefalicas book
Hello Doc,
I was searching Google for Pedro Weiss's book, Practicas Cefalicas and was directed to your website. I don't know how familiar you are with the book, but it's very difficult to find, and yet very important in cranial deformation (and other practices) research. I am a graduate student in archaeology at Boston University and have been working on a project about artificial cranial deformation in pre-Columbian Peru for several years now, but haven't been able to obtain a copy of Weiss's book (without which, I can't responsibly finish my research). Is there any chance that you might be interested in selling it? I can pay about $50. Please let me know.
unfortunately, what possessions i have left are boxed up. my ability to say for sure whether i still have professor weiss's book is dwarfed by my ability to perform brain surgery using only primitive stone tools. this latter ability of mine is itself unfortunately dwarf-like. lo siento y buena suerte.
---
Subject: Wagner ?????????
Date: Mon, 28 Aug 2006
From: Anthony M.
hey,
i was just reading your Mojave Desert website - yeah, wasting time at work.......
excellent. keep up the good work.
i must ask, what is the deal with Wagner ?
70/30.
but i'm not going to say in whose favor.
I understand the mascot thing (after once travelling about 2000km (or about 1000miles) through the Australian Outback) with 'Gezza' (a stuffed 10 and a half inch squirrel) . . . . .
but he was not quite as banged up as 'Wagner'...
wagner is stuffed (with Great Stuff, in fact) but he has a crunchy candy coating that is easily damaged if not eaten immediately. clearly that is where i made my mistake.
so, anyway - any insight would be great......
don't get in the red car!!
---
From: Juan Martinez
Subject: Who are They?
Date: Mon, 7 Aug 2006
Doubtless it's impossible to collect _every_ "They"/Hitler reference,
(though i am precisely the right sort of person to try)
but I must add--b/c I must--that in addition to
They Plotted Against Hitler
They Almost Killed Hitler
there's also
They Saved Hitler's Brain
they did indeed save hitler's brain. i know, cos i saw a documentary about it once. or maybe it wasn't a documentary; i remember that hitler's head was in a jar in the back seat of a car. and it was screaming directions to the driver. but the they list is all about books.
D'oh! Books. I was thinking pan-media.
All the same, I am sure that they have done all sorts of things to Hitler and to Hitler's various body parts. Surely.
Also, They Were Expendable was apparently a book first, a movie second.
if they did a novelization of they saved hitler's brain, then it's *in*. if they didn't—well, what are you doing this afternoon, mr. martinez sir, hrmmm?
I am working on the novelization.
Excerpt:
************
"You don't understand--they saved Hitler's brain!"
"Who?"
"They!" (He Points. They wave.)
[CAR CHASE]
*************
I'm not Harry Stephen Keeler, so the next 48,590 words will not be available for a couple of years.
---
From: Putidda@aol.com
Date: Sun, 30 Jul 2006
Subject: Capell circus
I read on your site some comments about Bob & Norma Capell I know that they both passed away. I believe they had a daughter but dont know her name Or any thing about her. To explain this inquire I am a cousin of Normas from her mother Doris side..I am trying to bring the family tree up to date.And would appreciate any help or leads you could offer Regards Don Chapman
lo siento; all i know is what's on the various raver pages here.
---
From: Robb
Subject: Book club
Date: Thu, 20 Jul 2006
I just was thinking, I REALLY like your style of "reviewing" books by putting together a bunch of meaningful excerpts with little or no commentary. I was just thinking that, so I thought I'd say so.
gracias. it's my style of no-style. also, it's much easier than composition. i used to do actual (or pretend) reviews. i'll do some in the future. but yeah, i figure a good hefty taste of some choice quotations is good.
---
Date: Mon, 17 Jul 2006
From: Diana Diana
Subject: "Cigarettes and Coffee"
Dear Representatives of www.deuceofclubs.com ,
I visited your site as was interested in film "Cigarettes and Coffee" by Screenwriter Jim Jarmusch. I was very surprised and disillusioned to find out the link P. T. Anderson fan site
to the cigarettes web-store ptanderson.com on the page
http://www.deuceofclubs.com/randumb4.htm
as I'm a non-smoker. This whole situation is disappointing.
And I am sure that the link ptanderson.com was a link to Cigarettes & Coffee,
which used to be a Paul Thomas Anderson site, but has evidently been
taken over by a company that sells low-priced cigarettes.
That's why I kindly ask you to remove this link from your site and change it to the following link: http://www.imdb.com/name/nm0000759/ !
With hope for your cooperation and understanding to this matter!
you're putting me on, right?
good one.
---
Date: Sun, 16 Jul 2006
From: Cardhouse Robot
oh my god, i just saw the rush limbaugh / jim morrison pic compare.... hooo haa that's great.
too sad, huh? morrison's LUCKY he died
man, what is that? Good living, drugs, what? What drugs made you all puffy?
that's drinking bloat and french food.
speaking of which, the search terms at the end are cracking my ass up
"cheat casinos with eye patch"
that's so good, I'm stealing it for song lyrics ...
i wish i could meet whoever put that into google
---
From: Bri
Subject: An Old/New Fan!
Date: Thu, 6 Jul 2006
Greetings!
I have lurked around your site for sometime, now. The Booth lead me to it in the late 90's. (Even though I was never able to experience it, I weep with the countless others of its loss.) I can't believe it's been gone for six years! Wow. I digress.
A few times I wanted to mail you, but always stopped before I could even write a single word. Your response to the douchebag about the James Taylor book put me over the edge. I just had to say, "BRAVO!" to you!
i knew dale carnegie was wrong about having to be nice in order to win friends & influence people.
Your site, I have recently discovered, is much, much, MUCH more than just the booth. And it's heeeeelarious. The Osmonds? Brilliant. The Mandible? Well, let's just say I haven't laughed that hard in a long time when I started reading the mail. See, this is why Bush is still in office. Because of people like that. *points to those who actually believed they were writing Amy Grant while humping their Bibles*
there's an image to chew on. this website really needs a cartoonist.
I can't believe how many there ARE of them!! (The people! Not the Bibles, even though that's another mind-numbing topic) And this is just a small portion! If I wasn't crying from laughter into my keyboard, I'd be scared as hell. Well, I AM scared as hell because of them, but...Oh Christ on a cracker, another tangent!
ANYWAY, I wanted to say keep up the good work! Everything you've basically stated involving politics, religion, pop-culture, environmental issues, etc. I pretty much agree with. It's like we were raised in the same house or something. (Wasn't there a line like that in Capote? Hrm...)
interestingly, i just watched that two nights ago, so i can verify that you are correct in likening us to a convicted slayer and an aloof egghead.
I've now bookmarked this site. I even decided to do a quick search for Oobies, as the only thing I knew about an Oobie was from the Noggin show. They're really eerily-creepily cute. I want one, now. Hell, I want booth-glass too, but you know what they say about people in Hell and ice water.
hell and ice water will come in handy, if i ever get my hands on whoever stole the booth glass.
Thanks for the laughs!
de nada. it's what we're here for. so far as anyone seems to be able to tell.
---
Date: Tue, 27 Jun 2006
From: Pettronella
Subject: Want to send some playing cards...
Heya Doc!
I recently ran accross a few cards that I thought you would appreciate. I would like to send them to you. How shall I address the envelope?
say: "hello, envelope!"
lo siento para el mal humor
~Pettronella
unusual name you've got there. does it keep truck stops away?
lo siento para el mas mal humor y gracias
I guess it must, I have never had the displeasure of a truck stop coming to visit. My twin sister, Citronella, is not quite so lucky in her naming though; despite our parent's clever plan the mosquitoes still bother us while camping.
Te perdono si me das un caja de galletas...
~Pet
---
From: PhilnJanis
Date: Tue, 20 Jun 2006
Subject: Kevin Jarre Manuscript
Doc:
I would like to buy a copy of Kevin Jarre's unbutchered script of "Tombstone."
Can you tell me how I can find a copy for sale?
mine's somewhere in a box somewhere, but you might try this.
---
From: Zach R.
Subject: christian song demos - measles
Date: Sun, 18 Jun 2006
I recently acquired a copy of the Christian demos CD from a friend and in an attempt to find some more information about it I found your site.
I was at an arts camp in North Dakota last week, and we were so moved by God Give The Devil The Measles that we made a music video for it.
If you happen to know any more info about where this CD originated (I was told it came from Word Music but I'm no longer sure that's true) or of the possible author of Measles, or where I might be able to find the full-length version of Kill Me, it would be greatly appreciated. :)
i think at least one of the songs mentions word records, but anything else about its origins remains obscured by dark clouds of mystery. which is probably part of some greater plan. probably an evil one.
---
From: AZ LIAR
Date: Sat, 22 Apr 2006
Subject: From an old Opal fan--not Spam, which I ate enough of
I was delighted to find your site with Opal's writings. I went looking for Burton yesterday, and found it.
likewise, amigo. always a delight to from an accomplished liar who is not a politician.
Back in 1957, I started the Springerville edition of the papers for which Opal wrote. Sometime in the 1970s, when I was working for the Sunday magazine of The Arizona Republic, I used to read her columns.
i'll always remember one sunday when i was a kid & we went out to church at burton. they were excited because their attendance board had never tallied a greater number of visitors.
When I found that Burton was not on the state road map, we decided to put it on the road map. After I found Burton and talked to Opal, we decided not to put it on the map--just leave it as it was, and let people look for it.
Jim Cook
Wickenburg
good choice. i was fool enough to have to learn that lesson the hard way: once i found a phone booth and if i'd kept quiet about it, it would still exist today. instead, it first got famous and next got destroyed (by the feds).
---
From: Robb L.
Subject: Bulging the old onion bag
Date: Fri, 16 Jun 2006
Ah, I can't tell you how many lonely nights I spent...
you! sick! BASTARD!
Sorry, couldn't resist. It really is one of those "insert your own joke here" kind of events.
there will be no more talk of insertions in this forum.
Man, I remember one time riding my bike in the desert after school, and we were running through these gullys to get up speed. Well, I stood up to pedal, and my foot slipped. Wow, talk about bulging the old onion bag.
i don't believe that for one moment. i have seen your children with my own two eyes.
---
Date: Sun, 04 Jun 2006
From: Laura M.
Subject: Incredible Christian Song Demos
Been laughing this late afternoon at "Incredible Christian Song Demos". Yow!
---
Date: Wed, 31 May 2006
From: Sharon
Subject: Gallopin Goose
Saw your website. As a toddler in the early 50's, I had the privilege of sitting in "Sky High" Waylon Jennings lap to promote records at KCKY. He was dating my aunt in Coolidge. We still have some very early b/w photos of him floating around somewhere. I was born in Florence at the old hospital not far from the state pen but lived in Coolidge before moving to Yuma in 63. I have fond memories of the Gallopin Goose, the old Prince Drive-in, the Bottle Stop drive through liquor store, Tip Top Cafe etc. My grandfather was a fixture at the Main Street Tavern.
ah, the bottle stop—still coolidge's finest purveyors of spirits and firearms.
you might know something i've tried to find out for years: do you know where in coolidge duane eddy lived? i've asked so many coolidge old-timers, and none has remembered (they tend to say, "no, but i know that his father was the manager over at safeway." which everyone seems to know).
You asked about my Aunt. She passed away in the early 60's so no, she and Waylon did not keep in touch. I asked my Mother about Duane Eddy and where he lived but she didn't know either. She's going to search for an early photo of Waylon. The picture was in the possession of my father before he died so we're not real sure what's happened to it.
The drive-in was the Prince drive-in and was just down the road "a piece" from the Goose. I remember seeing "Hercules Unchained" there!
ah, so on the way to randolph.
wait a minute. it's not near where 87 now meets I-10, is it?
there's a place there that i always think of as a drive-in movie lot, for no good reason.
or was it on the coolidge side of randolph?
---
From: Rachel
Date: Tue, 30 May 2006
Subject: Tombstone
Hello
I am a fan of the wonderful film Tombstone and upon searching for the original unedited version of Kevin Jarre's script I came upon your site...
You show the picture of the script, and speak on it, and now can you tell me about how I may go about reading it and obtaining a copy for myself?
Also I was wondering if you knew that the original cut of the film was almost 4 hours? And if so if you had seen it, know how to locate it, etc.
From one Holliday fan to another
hoping you can assist me on my search
Rachel
unfortunately, most of my stuff's in storage, or i'd make a copy for you.
i would love to see the longer cut. maybe someday they'll release one.
---
Date: Wed, 24 May 2006
From: brandi mcclaran
Subject: whatafinegirl.....
An entire year 2 date of your great president's teachings, and i am none the wiser cept for my own trial and error outbursts. OK here it is bluntly just the way i always lay it down... I deserve a handsome compensation for my time,loss of brain cell & data storage(mylobeizfull)!!! material losses (you know what they were) psycological torment and induced reaction conditioning....i could go on forever but im not mad, im aware. Recently amid my flowering siblings a sucubus deer tick of the flock almost caused a series of events to occur, this tyrade i am sure was premeditated and approved by two or more of your brethren. Me&mine will not be responsible for her inDuced soul Twisting. The spirit has and will continue to see thru mine eyes, & frowns at the waste of unnecessary bludshed. Back me into a corner again and you will need more than some ten thousand dollar CURB FEELERS to halt the dent in your taillight. My god isa loving, just, humble & very resiliant ruler. nuff said..send alms asap, there are crikets in my wallet and they are hungry.. loyaly yours..SIK
the amazing thing here is that i can't quite tell whether this is spam or a message intended for me. is that a sign of the times, or what?
i suspect some level of human intention here, with the brandi / whatafinegirl correspondence and the play on deuce/duce (though i take wounded umbrage at any comparisons to mussolini, who never had a web site half as good as mine).
then again, what could a strict deconstructionist make of any spam text chosen at random?
confusedly,
doc
---
From: Klaus
Subject: PALOMA BLANCA
Date: Thu, 11 May 2006
Hello,
what´s this far a page ?
I have 300 PALOMA BLANCA-versions. Can we change ?
Best wishes Klaus from Germany
greetings, klaus from germany
i don't quite understand your question. can we try again, bitte?
hochste lust!
doc
I don´t know, what you mean with this page. Are you collector PALOMA BLANCA-songs (from composer BOUWENS) ? Maybe you have list for me ?
Best wishes
Klaus
the versions of "una paloma blanca" were sent to me by people who had recorded them specifically for the contest i was holding. none that i know of existed before that.
may i ask how you came to be a collector of versions of "una paloma blanca"? i find this very interesting.
I know this song since 1975 - it was a big summer-hit in Europe. But I live in East-Germany and can collect songs from George Baker Selection since 1990. Since 1991 I´m member in Dutch George Baker Fanclub, and I have the worlwide greatest CD-collection - about 100 Baker-CD´s.
George Baker is a good friend from me, but I haven´t seen his concerts since 2 years. Maybe in 2006 I find a way.
PALOMA BLANCA I collect since 4 years maybe. My Danish friend has a big collection other Baker-coverversions, but isn´t interested to collect 300 x Paloma Blanca. So it was my idea to do it, since 3 years I have computer and EBAY, and every week I find a new version.
Maybe you knows this version I send you now.....?
Maybe we can change versions ?
Best regards
Klaus
please have you mp3 for me with the songs from your contest ? I think, George Baker is happy about your activity in USA !
i don't know where the tape is currently, but i have re-uploaded the .wav file samples onto the winner's page for you:
Hello doc,
I found 5 versions on your page. But have you complete in better quality ? I must record on CD and send to George Baker !!!!!
I collect all coverversions from Bouwens-songs. And my friends are not interested to buy and collect 300 or more PALOMA BLANCA. So I thought - I must do it. My computer was new and I saw many versions in ebay, gemm and and and....
Here can you see my CD vol. 7 !!!! (from 10 CD á 30 songs)
Have you more for me ?
Best wishes
Klaus
i'm afraid that's all i have for you. but best wishes on your continued searches.
---
From: Bettie Rinehart
Subject: integratron stuff!
Date: Mon, 1 May 2006
i thought you might be entertained by my latest story and videos.
up your alley.
best,
bettie
funny, last week i ran across a bass i bought from you years ago, one with a bunch of fish you'd painted on it.
you know, i never made the connection until just this moment: fish . . . bass. holy shit, am i slow.
did you happen to run into any of van tassel's sons-in-law? i don't know whether they stuck around after the integratron changed hands, but those guys were a trip.
also saw the slideshow--that guy had his finger on your energy port, wtf??
hey there!
thanks. i'm now a total integra-convert. the place is brilliant.
i didn't see any van tassels (i would love to have met them)-- but really like nancy and joanne karl, who now own the place. they've done much restoration and the dome even smells nice. i know what you mean about the slide show. it felt so innocent at the time but the photos make it look so...untoward!
i hope you're well!
best, b
---
Date: Tue, 18 Apr 2006
From: TradeMark G.
Subject: NPRewhipped
NPR had a review of Rewhipped on All Things Considered today, and they were all gushy about it. I still think it doesn't work, and that the new versions are unneeded updates that sound forced and won't take. I can just visualize an old Herb, thick with the accumulated know-it-all-ness of past decades at the top of A&M, with wrinkled leathery skin that has seen countless Carribean suns and girls du jour, browbeating these newfangled electro-whatever "artists" that were hired on after meeting the prerequisite for the project: total kowtowance to Herb. "Don't touch the trumpet!" Herb bellows, as a DJ/producer mixes the trumpet track with Herb barking over his shoulder. "The song's perfect as I wrote it. Just add some DJ bump-bump whatever to it and get outta here. I pay for this studio by the hour."
cracked me up good with that review.
so far i've heard only the snippets at amazon, and i found them pleasant enough. but i am known to be easily amused where whipped cream is concerned.