Amy Grant's Mandible
Wishful Mandible—Amy Grant Three Wishes Request
Date: Thu, 8 Dec 2005
From: rigy jacob
Subject: Request for a favour
RIGY JACOB,
VARAMBATH (H),
IRINGOLE P O,
PERUMBAVOOR
S INDIA 683 548.
TEL. +91 98477 30278
Dear Ms. Amy Grant
At the outset, let me introduce myself. My name is Rigy Jacob, I am living in a small town of South Indian state Kerala. I'm working in a small software marketing company in the Cochin City. I live with my parents and wife.
I,m sending this E mail to you for asking a small help. My Father was a State Govt. Officer and Mother was a head Nurse, We had an average finiancial background. My parents spent a lot to get my elder sister educated anfor her marriage etc(aprox:10lakhs). Now she is a Nurse Practitioner settled in the U S in Chicago. My parents expectations were to get some help from her but she did little. She's been there for 4 years and her husband is a US citizen.
Recently, due to our financial crisis, we had to sell our 25 lakhs' property for the half price. Now we are toiling hard to get resettled. Since we are not in the below poverty line in the Govt. records we wont get any kind of help from the Govt. Even though my wife is a graduate nurse, I must have a great sum to get her employed in any developed country. Since we are ashamed to stretch our hands to our nationalities, I was thinking of asking of a small financial help from any forigen personals or societies. I think you are the right person to ask for some help.
So let me take this oppertunity to beg you a small finiancial help of 7-8 Thousands of US $ only. I would be much grateful to you if you could help me in this matter. Once again I humbly beg you to be kind enough to help me. I believe, you will never deny my request. If this mail troubled you, I regret deeply and beg your appology.
Regards to You and Family.
Thanking you,
Yours sincerely,
Rigy Jacob.
Well, Rigy, I wasn't sure what to do about your very moving sob story. Until I remembered that I had a TV show all about . . . GRANTING WISHES.
<HEADSMACK> Duhhh!
So, I went over to the Three Wishes website to forward your very reasonable request for thousands of free dollars: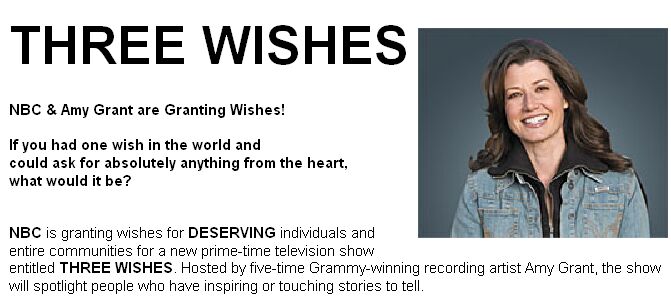 (Being CPF with the Mandible & all, we're just going to go ahead & ignore that bold, all-capped word DESERVING.)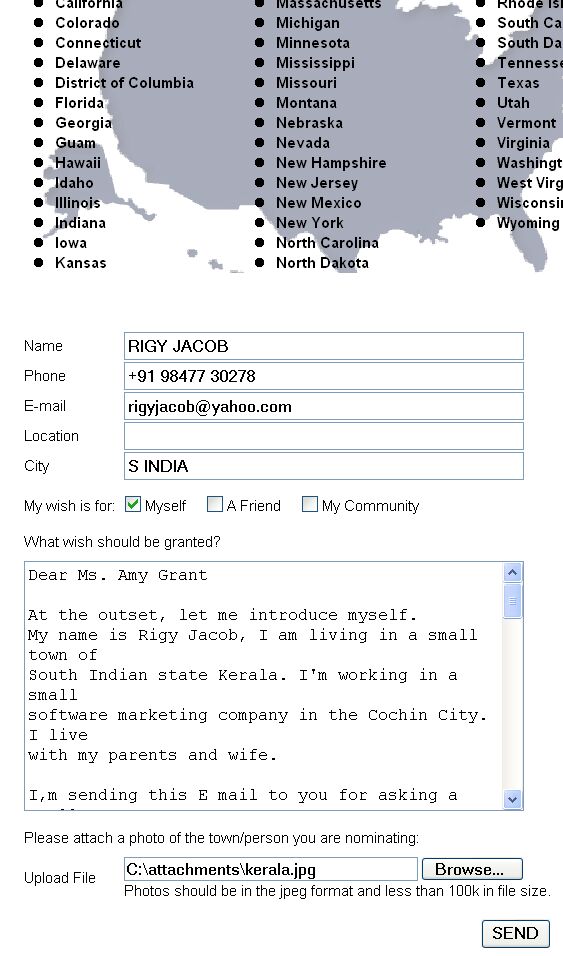 The form wouldn't upload without a photo of you, but since you enclosed no photo of yourself, I pretended that your request would benefit your entire community of Kerala, marked the community box, and attached this photo of Kerala, that I found on the web: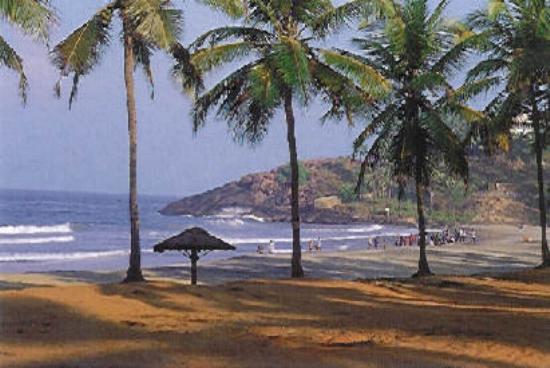 Wow. Nice place. (Are you sure you wouldn't like to be granting me a wish instead? Cos I likes me the sandy beaches, ask anyone.)
Then: snag.
Unfortunately, I had sat on your request for too long and seemingly have squashed it all inadvertent-like: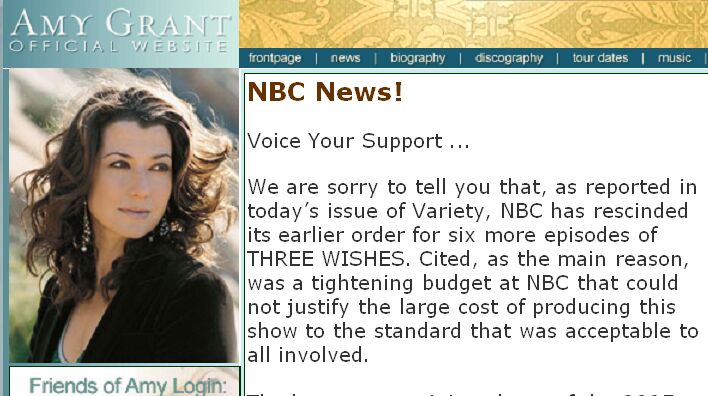 Heartless network NBC bastards!
But not to worry overmuch. All may not be lost. NBC is still fielding emails about the show: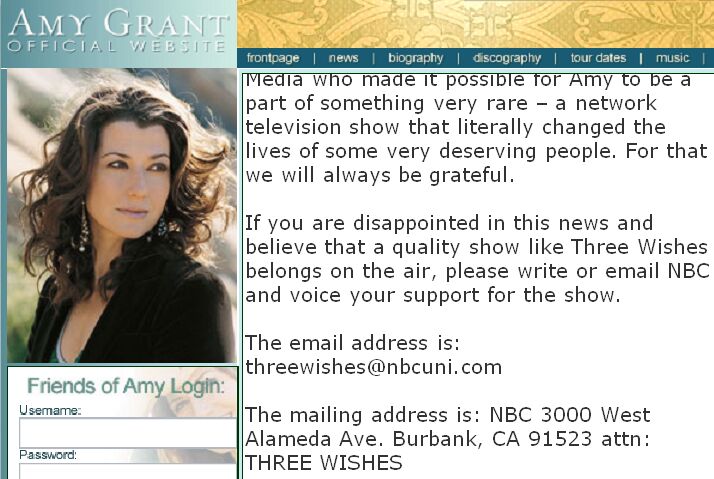 Accordingly, I forwarded your request via that channel. Good luck, and good life!
Amy
: )
---
---