Dennnis with three Ns
I found this biography of Wallace (of Wallace & Ladmo) online. The listing said it was signed by Wallace, which, bonus, because who doesn't love Wallace? But when I opened the book and saw that Wallace had inscribed the book to "Dennis," I got a weird feeling. I had to remind myself that this book couldn't have belonged to Dennis Moran, who had died years before this book was published.
Then I scanned the other autographs and inscriptions and noticed the extra n: "Dennnis." Uh-oh. I flipped through the pages and a business card fell out of the book: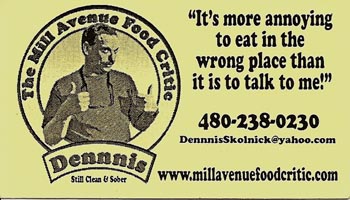 The book had indeed belonged to Dennnis, a well-known character on the streets of downtown Tempe. This did not bode well for Dennnis. I hadn't seen him in several years, since I moved away from Tempe. I had a look around on the web and sure enough, Dennnis Skolnick died last year (2006). This, then, is my second Tempe-related dead Dennis book acquisition.
To all Tempe dead Dennises and Dennnises, R.I.P.
---
Another Gerald-related dedication
(Read excerpts from Thanks For Tuning In)