---
Don't you hate it when people drop by?
No?
Well, I do. For example, I've tried & tried to teach my psychotic neighbor that even my very closest friends never just "drop by." Everyone has to call first.
It's gotten so that I've accumulated a slew of signs in my window:
NO TRESPASSING
KEEP OUT
DANGER
CAUTION
DO NOT ENTER
BEWARE OF DOG
NO SOLICITING
NRA
NORTH AMERICAN HUNTING CLUB
POISON
NO SOLICITORS
WALK AWAY & LIVE
KNOCK & DIE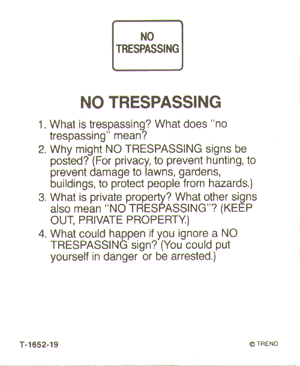 Along with the NRA & hunting signs (stickers, actually, which came in mail solicitations), I included a handicapped sign. The image I wanted to project was of some crazy old coot in a wheelchair with a rifle across his lap.
The sign on my door is the most explicit of all my signs, carefully spelling out my position on callers. Sometimes the signs have the desired effect. Other times people knock & then read the sign. Some people will not be deterred.
Case in point:
The other day I received a letter addressed to "Sign-Person." First read the sign, then read the letter. I haven't decided whether I should make a response, so if you have any thoughts on the subject, drop me a line.

27 August 2000: Another note.
---