---
[some guy sent me an unsolicited e-mail asking if i wanted to buy a copy of mein kamp [sic]. bad enough, but the guy included three attachments, two of which were cloyingly cute little graphics with the admonishment, "keep reading." the third was an 800k+ scan of Mein Kampf. i was displeased. the bookseller's response to my complaint is annoyingly entertaining: he may sell books for a living but -- judging by his lack of lucidity -- doesn't read many of them.]
Date: Wed, 10 Jun 1998
From: Kenneth A. Snyder
Organization: Kasco Services
Subject: Mein Kamp
I have a slightly tattered original copy of Mein Kamp. Photos attached, the copy was from the former husband of a friends mother who fled Nazi Germany and married a U.S. Marine Corps captain.
Any offers??
first of all, it's Mein Kampf, not Mein Kamp secondly, it's not considered polite to e-mail attachments to people w/o asking first. especially an attachment that's over 800k! and what's the idea of sending the two "keep reading" graphics? who needs that?? thirdly, how did you get my e-mail address? fourth, after you answer that question (if you care to), please lose it!
Date: Fri, 12 Jun 1998
From: Kenneth A. Snyder
Organization: Kasco Services
Subject: Re: Mein Kamp
#1-No Duhh! Never missed a key??????? I DID have the blasted book in front of me.
#2--I humbly offer sincere and sorrowful amends for the file size-I truly had no idea they were like that and would have been quite upset to have been in your position. Our business has several people accessing the scanner and it had been changed to 1200 dpi uncompressed without my knowledge. Again, I am truly sorry (I.E. "filled with sorrow and regret" according to Websters' Unabridged Encyclopedic Dictionary of the American Language, 1993 edition.
#3-I got your e-mail address because when you input mein kampf on the alta vista search engine, YOU came up number one! How could someone have such blind, comatose luck to build such an effective site and yet wonder how someone found him?? What in the name of "THE BIG GUY" are you doing trying to "HIDE" on the Web, Anyway.
No accounting for taste. Or attitude. "Of all sad words of tongue and pen, the saddest are these-what might have been?" Perhaps a profit possibility existed that your heathen response has negated now forevermore.
#4-In other words, rest assured that it is already as lost as any semblance of human decency - or personality - you may have at one time possessed.
God Bless, and HAVE GOOD-NO MATTER WHAT!!!!!
[Like it or not-and I seriously doubt you will-I'll be praying for you for at LEAST the next two weeks. If you love that head of yours, better spend some extra time with it....what CAN'T God do?]
ken, baby -- when i said "lose it," i was talking about my e-mail address.
---
From: Tony
Subject: Goldwater
Date: Wed, 10 Jun 1998
I make a presumption that you were affected by Barry Goldwater's death.
To me, he exemplified the blend of spiritual and material human needs that is libertarian conservatism. Quite a good place to be.
Somehow, I can't help but feel that his passing marks the end of 'that' state of Arizona. You know, the one where you can do or say anything you damn well please so long as it doesn't cause a murder.
took the words right out of my mouth
I know that the world would be very different had he been elected in '64. You can bet there wouldn't have been Vietnam to argue about throughout the '60s and '70s. America would have either won the war or pulled away early.
i've made a small website tribute, including photos i took at the funeral (fortunately, wagner was on his way to cairo at the time)
---
From: Sogomo
Date: Fri, 5 Jun 1998
Subject: TOO FUNNY...
You crack me up........... what a great sense of humor you have! Thanks for the story....
Later
MO
---
Date: Fri, 5 Jun 1998
From: John Lam
Subject: your website
hi, i just saw your amy grant mandible website. it is so cool! i was laughing the whole time. is that a true story about signing the box o chocolates and stuff? wow, you are just too funny. anyway, thanks for the comical amy site.
it's all true, my friend. yep, that's really her tiny signature on the box of cherry clan (which isn't chocolate, btw; it's kind of like cherry sours only it tastes like sucrets throat lozenges). there'd be photos of amy signing the cherry clan box, except i had no advance warning that my friend was going down to see her
my amy site is not anywhere near that funny. it's actually rather quite serious. later...
John Lam - An Amy Grant Website
http://www.geocities.com/Nashville/1075
---
From: Holly
Subject: frogs..i need your help!
Date: Tue, 2 Jun 1998 21:53:14 -0500
I do not know and I do not understand your web page but I stumbled upon your web page and found an insert from a guy named brody talking about frogs in your spa and I was wondering if you were serious? I have the same problem and I want to talk to you or him about it. I looked and looked on the internet for something to help me but only found your thing you wrote. do you really have light bulbs in there? I couldnt tell if it was a joke because you said you were going to feed the frogs a roach.,..gross! Anyway..I need your help
BAD!
Thanks
Holly
---
From: Lanceman
Date: Tue, 2 Jun 1998 00:26:51 EDT
Subject: Fun Site 4 U
Hey!
I just finished reading your VERY VERY funny Space Ghost- Wagner interview and the writer's interview. WELL DONE! (Space Ghost is way cool) Congrats for the NY Times piece!! Now you are INTERNATIONAL, right? Hope Wagner gets out of the padded-room soon, but mental health IS important. Last time I wrote, you alluded to some upcoming lonely-phone-booth-call-in-thing... is it going to happen?
The date(s) of my next visit to The Booth will be posted & otherwise disseminated in due course.
---
Date: Sun, 31 May 1998
From: patrick trevino
Subject: some Twang feedback
I just wanted to send you a quick note to compliment your site. My name is Patrick Trevino and my family has been making Twang for the last 12 years. We thing our products lend themselves to having fun and your site is a clear example. I f you have a chance take a look at www.twang.com to see what has happened with our products recently. Send me a note if you would like some samples. Take care and have fun.
---
From: webchick
Subject: I've got goodies for you!
Date: Mon, 01 Jun 1998
As usual, I'm thoroughly enjoying your site. I live in Houston, and very sadly couldn't make it to the Art Car Parade. But I taped the parade and saw Whip It for a fraction of a second!
On to my reason for writing...I don't know if you are aware of this place - Wagner Hardware in Houston, on the corner of Westheimer and Joanel. I've been driving past it every day for nearly a year, and I just noticed what the damn sign actually says. So of course I took pics and they are attached. I thought you might get a kick out of it and it could be a possible photo op next time Wag brings you to Houston.
Keep up the good work!
-ashley(webchick)
---
Date: Sun, 31 May 1998
From: Kelly Lyles
WHO'S TAKING THE BIG GUY ON MY TRIP TO EGYPT???!!?!?
(note: kelly had planned on escorting wagner to egypt last year, but her trip was cancelled after the tourist attack at the pyramids) well, kelly, i guess some people aren't scared of a few machine-gun rounds...
---
From: LAscandals
Date: Wed, 27 May 1998
Subject: carl "alfalfa" switzer
i might be able to answer the question about "what the hell is the switzer method anyway?". from what i read, carl "alfalfa" switzer had a brother named Harold Switzer. harold owned a chain of speed queen washer and dryers and serviced and installed them into apartment complexes. the grave marker that reads G. Fred Switzer may have been carl "alfalfa" switzer's father and he may have possibly had the business first and Harold probably inherited the business from his father. what the Switzer method might possibly be a business slogan in regards to the washer and dryer business. by the way...if anyone is interested. i have two newspaper articles that were printed within days of carl "alfalfa" switzer's murder that may show that carl "alfalfa" switzer was unarmed at the time of his death. Tommy "Butch" Bond is quoted as saying richard bann and leonard maltin's "our gang-the life and times of the little rascals" book that he believed that carl "alfalfa" switzer was unarmed at the time of his death. these newspaper articles could possibly back him up and if it's true, then carl "alfalfa" switzer may have been murdered in cold blood. i would be more than happy to send these out to you free of charge. very interesting reading.
best regards
LAscandals
---
Date: Tue, 26 May 1998
From: Lou Manyeti
Subject: Manyeti...Minatti.....Yes but no!
as soon as i wuz old enough, sensitive persons, having seen the ghost of Adam Weishaupt hurling itself uselesly against my Meat-body, folk have tried to conect my name with that organisation. In addition, many in my fammily are VERY LARGE and often VERY HAIRY ( i am the runt of the clan) HOWEVER,, tho i have heard of AT LEAST three versions of the name (i use it primarily as a stage name/Revolutionalry cell title) i can not be sure who is who and what is what. My pranks are indeed legendary and often hazardous, and i have been at it for some time. But i suspect that unless you are from the East coast, circa late 70"s to mid 80's then i am NOT the one you are looking to reconnect with. odd tho, i do have owls, and they need airing.
(prank # 14.5... While LArge Federal buildings are being built, aquire as much low grade fresh seafood as you can, pack it in ice or dri ice to keep it from smelling prematurely. get onto the construction site, and put said seafood where they are about to close off a wall. Hidden well enough and close enough to opening \day the odiferous results are spledid to watch. You may also just slip some up in a ceiling tile if the have already built the damn thing.)
---
Date: Mon, 25 May 1998
From: Omar Snake
Subject: "Purple Knif Show"
Hello from North Carolina!!
I came across your Web site while doing a search for Cramps rarities that I can't seem to find anywhere (yeah, i know, that's what makes them rarities) and I saw that you had the Purple Knif Show, and had no recommendation of where someone could get a copy of it. I've had zero luck trying to find that damn album, and it sounds mighty cool. Is it possible to get you to tape it if i sent you a couple of blank tapes (only need one copy, but would send extra tapes ... or a couple of bucks... for your trouble) and a return envelope? Whether you can or can't do that, thanks for your attention. And cool web site!
---
From: Lawrence Boyce [New Zealand]]
Subject: Hi there
Date: Mon, 25 May 1998
This has been an adventure. I have never been on a web page like this before........ I like and think it is awesome..........
Would you be able to keep me intouch with what Amy Grant is doing please. Like new ablums and if she is going to do a world tour.........
Some questions for you to answer.....
How old are you.?
I am 31 years old. Jus wondered if we could be friends.........?
Lawrence Boyce
gee, lawrence, all i can say is, i'm glad it's tomorrow where you are.
---
From: MHalchin
Date: Sun, 24 May 1998
Subject: mom always said don't play ball in the house
i came across your site from that article in pop smear a few months back. just today i was flipping channels and they mentioned something about "the only phone booth in mojave" and i thought "holy shit! gottfried danneels!" i don't think it was about your article tho.
enjoyed the lori petty interview - i've had a soft spot in me skull for her for quite some time now - even sitting thru some crappy sitcom on fox just because she was in it. pretty cool you recorded the interview on one of those pixel cameras. a friend of mine in college had one of those - i still remember the audio tape whizzing around so fast i thought it would burst into flame - maybe 5 minutes worth of "film" on a 90-minute tape. with the picture quality of a jpeg blown up 400%. then a couple years later they started that pixel camera festival in chicago - i think they still put it on once a year.
anyway, your site looks great, with a hell of a lot more content the usual sites i've been seeing lately.
---
[email to my pal ultima:] hey, hypnagogue -- remember the contest i was putting together for Planet years ago (which was scotched by Planet's untimely demise), where readers would have to guess how many times various phrases appeared in the novelization of the movie Bill and Ted's Bogus Journey? mtv's doing it today--winner gets ten grand and an isuzu. they should give it to ME! (btw, love the headline in the march Boxoffice (p. 50): "BOXOFFICE POT GROWN IN ITALY." i didn't know Boxoffice had its own variety. (of pot, i mean -- not the magazine Variety)
From: Hypnagogue
Date: Sun, 22 Mar 1998
Subject: stupid mtv
That is BIZARRE! It's way too obscure an idea to be a coincidence -- someone must have leaked it! I blame [name deleted] I imagine a lurid scenario involving a beauteous busty MTV double-agent drawing the info out of him with the assistance of triple jello shots (raspberry flavor). The bizarrest part is the fact that somebody bothered to novelize Bogus Journey. (Excellent Adventure, I must say, was truly excellent; it was among the first movies I ever reviewed, and I gave it four stars. This was met with sniggers and comments like "What is it, Gone With the Wind?" Okay, so since Gone With the Wind, no movie should get four stars, ever, no matter what the genre. Anyway. This from the gal who's rootin' for Full Monty for Best Picture. I'm covering the Oscars for Bx this year -- should be harried -- yet I'm looking forward to it. By the way, the very first movie I ever reviewed was Rent-A-Cop. My editor wrote the headline: "Film needs cuffs for Burt, Liza", or something like that.
It's been a particularly crazed time for me. After that mega-issue came the convention it was promoting; following that, I went to Minnesota. As soon as I got back I had to tend to the million messages on my desk and arrange to rent formalwear for tomorrow's festivities. I'm concerned about getting there, getting everything done and not having 20 different stains and rips on my dress, whose label actually, literally, not jokingly instructs "Do not touch." (I should photocopy it! and file it with the "Do You Like a Soccer?" sweatshirt.)
Anyway, I hope you get your $10 grand and your car. You deserve it!
--Ultima, Princess of the Universe
(and *no*, they never really made Freddie Mercury dolls!) ;)
---
Date: Thu, 21 May 1998
From: Hesby
Subject: Insignifica
I often find myself strolling through old pages on your website even though I've seen them before. They bring a comforting feeling of familiarity, much like the piss-soaked vagrants who loiter around my neighborhood, mumbling curses in what must be esperanto.
funny, that's the effect they have on me, too. but then, i was there!
The interview with your girlfriend Lori Petty reminded me that she is doing commercials to get people to attend horse races. I don't remember if it was for the entire industry, or just some local racetrack. Shows how fucking effective that commercial was. Cute enough, though.
actually, it's for a line of clothing.
"Didn't you ever just want to disappear?" disappear
i disappeared long ago, amigo.
Hesby
---
(from an arizona mental health facility comes this report from gail, who will be providing full web documentation of wagner's "visit")
Date: Wed, 20 May 1998
From: Gail
Oh, I had a doozy of a time with Wags. We had to do a full cavity body search... and guess what we found! You'll have to see it. We had to do a full seclusion with restraint after he escaped from the unit and hid out in the staff lounge freezer... he's quite a handful.
I think the shoot went really well and Wag seemed to enjoy himself.
And that's the news from Lake Woebegone
where all the women are infected,
the men are tanked up on monkey juice
and all the children smoke the buddah
---
Date: Mon, 18 May 1998
From: Perri Harper
Organization: Zenguin
Subject: Re: PXLs & Artcars
Hi!
Did you get any answers to your capture software question directly? Haven't seen anything posted to the PXL list.
Also-
You first appeared in my old-fashioned mailbox about seven years ago, sent by mail/art friends Phil & Gina. Then, two or three years later someone called me from the Orange Show and told me some fellow was down there with a bust of Wagner... but I didn't get over there in time. A couple of Art Car Parades later (I'm in the Penguin Plymouth)I still manage to miss you, and NOW you show up right in my email. Okay, okay! I'll try to pay more attention!
"Hello!"
Hope you parade with us again soon, it really would be a pleasure to meet you (and of course, trade any hot PXL tips of the day)!
Perri Harper
---
From: pgl@ein.cz
Subject: http://www.deuceofclubs.com/p/w/czech.htm
Date: Mon, 18 May 1998
Hello,
I am a citizen of the Czech Republic, and I must say that I am most offended by your blatant disregard for the civil rights that we have here in the Czech Republic.
look at the other letters -- it's not as bad as it could have been! actually, i rather like vaclav havel. except i think he'd be a better statesman if he weren't a frank zappa fan.
Your page showing the courteous response from President Havel's representatives at http://www.deuceofclubs.com/p/w/czech.htm is ludicrous. I insist that you take down the page immediately.
- Petr Lov.
right away, sir! keep checking back several times each day to make sure i do, ok?
---
Date: Thu, 14 May 1998
From: denise scilingo
Subject: Re: wow
Deuce, you just keep popping up in my life. today i had an email from my friend Mike in Wisconsin, who emailed me your mojave site, unknown to him that i know you. Mike also will be writing in the next Underestimated. Wow, how odd.
I checked out a little of your web site and saw your Space Ghost stuff. I LOVE SPACE GHOST!!! It is my fave! I have the CD and a t-shirt. i love that show. your interview was very cool.
take care
denise
---
Date: Thu, 14 May 1998
From: Jesse Milden
Organization: Tripod
Subject: Re: Deuce gets LUCKY
lets see the videos!! I don't know what your computer resources are, but it shouldn't be too hard to plug the PXL 2000 into a video card and make quicktime video for your site. what do you think?
I have a lucky dog 3-D puzzle I'm quite fond of, it's about 10" tall, plastic and has a big smile.
thanks for keeping me posted on your updates. I always enjoy the virtual roadtrip.
---
Date: Thu, 14 May 1998
From: Olivia Henderson
Subject: Baker, California--Thank you!
Hello. No, you don't know me. This is just another one of those long (really long) semi-pointless emails from someone who stumbled across your site. The difference, however, is quite unbeknownst to you, your site has saved me from disrepute and persecution. Let me explain.
You see (settle in for a story--you may want to bring a snack) quite a few years back, I was on a choir tour, and our bus broke down in Baker. Now, as you know, there aren't many places in Baker to put 85 singers for a few hours without serious damage to the natives or the singers. Therefore, we opted to stay in the shade of the bus and keep track of the steadily rising temperature on the omnipresent thermometer. We began speculating about the validity of an entire town founded on a large, kitchy object, and about the desirability of the phrase "Gateway to Death Valley" as a town motto, but mostly we were speculating about whether the temperature would hit 115 before Bob (our lovable and coffee-enhanced busdriver) fixed the bus. It did, but that's another story. Anyway, I had just happened upon the idea of collecting unlikely sentences, and "Gateway to Death Valley" seemed like a likely candidate. It was duly scribbled on the back flap of the cheap mystery novel I was using to occupy my time, and forgotten.
Fast-forward 4 years. I am cleaning out my embarrassingly large and unwieldy collection of cheap and badly-treated paperbacks prior to a move, and I uncovered the unfortunately titled "Blood on his Mother's Hands." A spark of recognition flared, and I flipped to the back page. There was the sentence, faded and illegible, but the brilliant beginning of another meaningless collection! From there it all came very quickly; unlikely sentences are everywhere if you listen, and the site has grown in popularity and use. However, the founding sentence, the creme de la creme (if I may) of Unlikely Sentences, was never believed! I received countless (well, okay, mid 20's) email messages accusing me of making it up! And I, with no way to prove my truthfulness, was forced to resort to "Is too! is not! is too! is not!" arguments with people I didn't even know. Well, anyway, to make a long story short (too late) I have been exploring and greatly enjoying your webpage for a few weeks now, and I discovered to my delight that you have a picture of the very sign that started this whole thing! I immediately linked to it, and I expect accusations and arguments to cease decisively!
So, to return to where I was at the start of this obscenely long email: thank you. You have restored the dignity of a fellow seeker-of-the-absurd-and-useless, and made a girl happy.
I apologize for having wasted so much of your time, but as I hear, you have a lot on your hands. (Do you still call the phonebooth?) Best wishes to you and Wagner--
In gratitude,
---
Date: Mon, 18 May 1998
From: Olivia Henderson
Subject: Bun Boy
Where on earth do you find these places? The funeral museum, the phone booth, etc. Why don't I ever find strange, you-went-where? and-why? places to go? The best I can do is the occasional roadtrip to Vegas. Even though I hate it. Although I guess, technically speaking, there's no weirder place than Vegas.
i'm willing to offer any help i can. burning man's coming up (end aug / beg sept). that oughta be "you-went-where? and-why?" enough for ya. (close, too -- you're in UT, right?) an archaeologist just visited the Booth saturday to "excavate" the baby pool i buried there. he wins! anyway, he told me he stayed at bun boy.
No fair! That was my next mission! (I'm an archaeology minor). Now what am I gonna dig up of any value?
if you want someplace interesting to go, you could go there & bury something. the website will be needing another contest, now that the pool's been dug up. (here's the current contest.)
I suppose you've thought of all the insert-your-own-jokes-here about a funeral museum hosting a golf tournament. . .
right . . . "so, i wonder if they dug their own holes?" ok. watch your e-mailbox for updates. (i try to space them out, so for up-to-the-moment monitoring, the Log is where you go. as if it's that important!)
Of course it is! You talk as if I had something else of value to do with my time!
to judge by my website, i obviously don't, do i?
RalphPeterson (auf wiedersehen for the "linguistically enhanced"),
Olivia
---
Date: Thu, 14 May 1998
From: RALPH SWARTZMEYER
Subject: nice site !
I am the night guy at a very quiet mental health facility.I enjoyed your site very much thanks.
i know another night guy at a mental health facility. you're not in flagstaff, arizona, are you?
---
[Letter from Denise in Chicago, publisher of Underestimated]
Hi, um. I hope you remember me. As you see
[she wrote on the back of a photocopy of my letter]
,

you ordered Underestimated #5 in 1992, well, 6 years later, here is your issue. Sorry it's taken so long.

I originally was gonna send you this issue cause i saw your car in Cool and Strange Music zine. And I said, "Hey, that's the guy who did Wagner's zine!" Cool car, by the way. Then while cleaning my parents' basement I found this letter you wrote and really knew it was a sign to write you. Hope you're still at the same P.O. So what have you been doing for the past 6 years?

I hope this Underestimated is as good as you remember. Sorry it took so long!

Enjoy --

Denise
Underestimated is available for .50 or two stamps from: Denise Scilingo
P.O. Box 13243
Chicago, IL 60613
---
Date: Wed, 6 May 1998
From: Jennifer
Organization: The Orange Show
Post art car weekend botzs (Beth calls the Blues the Botzs) have set in. After doing this for 8 years, I no longer get deathly ill or really truly depressed after Art Car Weekend but I am exhausted and still cant figure out why I sleep 12 hours a night two weeks after the event...
and it is difficult to write the 10,000 thank you letters to everyone involved in Art Car Weekend when you have the Botzs. I start and stammer and hold my breath waiting for the photos to come back to not only jolt my hazy memory but to inspire me to gush with thanks....
So, I finally took a tour of your 97 caravan experience all the way through the last screen in search of some of that anti botzs mediciine...
Im not completely cured but much closer than 2 hours ago...
try this new dose--fresh batch, made tonight!
I am by the way missing my regularly schedule poker game at present.. the search for post parade partum is extreemly important to us arts administrative workers....
I laughed out loud twice and tears came to my eyes once - on the page about Cadillac Ranch - it was something about the Germans, and the cars in the ground and having to fake the human walk/approach for the cameras and the honesty of "jenny is cute" that some how got to me - why I know not...
hmm . . . ever been called jenny?
And one of the really amazing things I continue to discover year after year is how much goes on that I am unaware of ... I mean, the effort and time and passion and energy and glee people give and get ... we stated it inour thank you letter last year - soemthing about : thanks for all the things we know you did and all the things we don't know about that you did... and I hope people get that because it's reciprocal.. there is so much that goes on in order to produce those fleeting 4 days... humph?!?!?
i can't speak for others--though i think they'd agree with me here--but many times during art car weekend i think about all the work that goes into it. and if i didn't thank each of you in person--and i definitely meant to--thanks for a GREAT job!
anyway ... as I was going through your site I thought about how good web sites like yours are like art cars... they attract attention and promote affection for themselves... Its funny I kinda want to ask if you made the site to "get girls" which is a common question art car artists are asked?
why? think it would work?
but never mind that...
I just wanted to say that I am glad I finally got around to checking it out; I found it smart and funny. (you know back in the old days of this event when there were maybe 75 cars I used to talk people into coming to Houston - I remember meeting Charles Linville over the phone and coaxing and prodding and persuading him to drive ALL THE WAY from Portland... I met and got to know everyone basically over the phone and the event was small enough that I then got to interact with them once they were all here.... its not like that now ..
sorta sad . . . but i will say that i enjoyed the interaction i did have. you always had a smile on your face and seemed to be enjoying yourself. with all your responsibilities, that's pretty impressive, j. (if you're not doing anything in september, come to burning man or westfest--i pledge you'll have as much interaction as you can handle--and without responsibilities!)
it takes about 2 or three years for me to figire out who is who and who goes with which car and what there voice sounds like etc...
i thought It was really funny how you faked your entry photo.. did you notice this year that we didn't require a photo but would take a drawing instead... hope you did...
oh, i noticed all right! naturally, the rules are relaxed this year, when i've got PLENTY of photos of my art car! in fact, i told "pez car" cliff (whose photo featured the one side of his car that was finished at that time) that we should take credit for the rule change--but i guess we can't, if you didn't know about it.
and thanks for the effort it matters... but you should be aware of the art car code of ethics #5 is "pull all the strings you can"... I bet we would have let you slide on that one...
i tried, i tried! i even had kathy biehl trying to pull strings & call favors, but no go. (even color copies weren't allowed, or i would have kluged together an art car in photoshop!) well, my niece & i had fun doing it, anyhow.
Well, cheers to you and hope you had fun and you'll be hearing from us soon witha thank you letter and an evaluation form etc...
so for now, whip it, whip it good! and thank you.
Jennifer
thank you, too, jennifer. i really do appreciate your hard work and the magnificent result. and thanks for writing. it was a great shot in the arm to get while finishing up the houston 98 webstuff. wish i could remember everything i said in the first [computer-crashed] version of this e-mail, but . . . think good thoughts about yourself & you'll pretty much have the substance of it.
---
Date: Fri, 08 May 1998
From: Kurt R. Heidelberg
Organization: UC-Riverside / Dept. of Anthropology
Subject: found your page
heard about your site from a friend who saw you at Salvation Mt. when Leonard was showing his balloon (sorry I missed it).
Excellent site!
too bad you missed the balloon--it was amazing.
but the mountain's still there for the viewing. as is leonard!
---
Date: Thu, 07 May 1998
From: Brody Culpepper
Organization: Bigrig Industries
Subject: Chemistry & Toads
I spent the last 1/2 hour going through your travelogue. Fine stuff, and I especially like the vinyl roof on Whip It!.
As for the ingredients in TWANG, I believe that Silicon Dioxide is a dessicant to insure the fine granular nature of TWANG. In paper packets, normal granulated salt will absorb atmospheric moisture and cause clumping. SiO2 prevents the excess absorption of moisturen and deters the clumping that would rile and anger a TWANG consumer. At least that's what I think. I dropped out of college chemistry twice.
An on another matter, what ever happened to your tadpole farm? Did any of the critters ever grow their little legs and make it out to the real world, or did they all die before they tasted the sweet joys of life? Are you with or without toadlets?
without.
That's about it. A little more work on the computer, than a short stint in front of the TV to see white trash crack-whores battle it out on Jerry Springer, than back to the daily grind of Science.
Brody
---
Date: Thu, 7 May 1998
From: barb traub
wow, that was a nice hour long voyage to Houston and back early this morning. Thanks for filling me in on the latest. In answer to your question, yes I will most likely be at Burning Man yet again this year...
blacklight barb
---
Date: Thu, 07 May 1998
From: Gail
There was a Whipped Cream reference on the last episode of Just Shoot Me on Must SEE TV on NBC:
Remarking about a custody battle for belongings in a divorce, character Jack Gallow says, "Where's my Herb Alpert, with the whip cream?"
I'm also working on the Ring Cycle plans, more info forth coming.
You should have done courtroom sketches of Wagner in jail since no cameras were allowed inside.
Todays prayer:
Our Father Art in heaven
Blessed be the Libertarian...
---
Date: Wed, 06 May 1998
From: Mark Simple
Organization: cardhouse.com
Subject: Lucky
Where in the heck DID you get that Wanda Jackson Live at Lucky's album?
right here in beautiful tempe. that album was recorded at mr. lucky's in phoenix back in 1969 (that's the back cover, btw). mr. lucky's still exists, and the sign is exactly the same. i have an old wagner photo with it, somewhere. i'll try to find it & put it up next to wanda's.
---
Date: Fri, 01 May 1998
From: Trish Benedict
Subject: Korla Pandit
Good grief!
Can't I go anywhere on the Net without running into you?
no
I do a simple search on Korla Pandit, because I was wondering whatever happened to Olga Korbut, which made me think of Korla Pandit, and oh...never mind! When I did the AltaVista search and turned up the the blurb "pulls out all the stops on his turban-charged B3" I should have recognized your style!
My grandmother used to watch him on TV when I was a toddler and I sort of had a crush on him - or a fascination with the jewel on his turban, which the camera used to love to soft-focus on hypnotically. (I guess that dates me, huh?)
Trish
you dated korla pandit?!?
---
Date: Fri, 01 May 1998
From: Max
Subject: bigrig bm drinkiekamp
hey!
This is Max - i.e. Wagner's ex-wife in Portland Oregon - you probably don't remember me - I was in the bigrig camp last year and saw you at the SF art car thingy, anyways - just wanted to drop you a line to let you know that ANY alcohol consumed in the bigrig area is ok - I look forward to seeing you at Burning Man - what camp will you be in?
anyway, gotta go - please give Wagner my love and he'll always have a special place in my heart!
xoxo max
---
[Postcard from Lady Kathy in NYC]
So i'm wandering through the Village & scurry into See Hear . . . and pick up an issue of Cool & Strange Music . . . and hours later read if on the subway & come across not only a letter from you but a photo of Whip It. I'd say Wagner Saturation is getting pretty damned complete!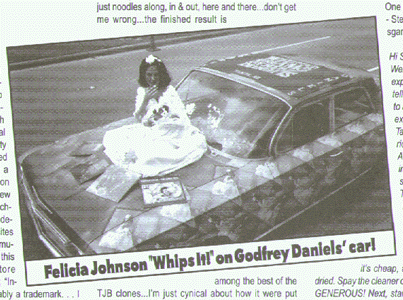 ---
Date: Fri, 24 Apr 1998
From: Kit L. Lo
Subject: It's been 3 years and 24 days since the "Tank Girl" movie premiered...
..and I was thinking of something while I am reading your interview with Lori Petty:
1. Is my obsession of Lori Petty related to the search for the Holy Grail (Parsifal)?
that's not one i've heard of before
2. Do you mind if one of my friends link up his page to the interview?
not at all
3. What's a good recording of "Parsifal." I heard of the opera in the TV show "Millennium" weeks ago.
a good recording would be daniel barenboim & the berliner philharmoniker (teldec)
4. Did you hear about the "lights" over Phoenix?
yes. it turned out to be military planes dropping slow-descending flares
5. If you have to know, anything that has something to do with Lori is a relic to me.
well, i didn't *have* to know, but . . . thanks. i mean, i don't think she spit on my camera or anything.
Word to ponder:
DUELIST--Although not a rank per se, the role of a duelist is an important one. A unit's duelist is its most skilled warrior, chosen to represent it in certain ritual battles where a lone member of a unit faces another, rather than the whole unit entering a full-scale melee. Each unit has only one duelist, and there are some missions that no one else can fight. If you are selected to be your unit's duelist, be aware of the high honor your commanders are bestowing on you. (From the manual of the "Heavy Gear" computer game by Activision).
whatever you say.
---
From: S. E. U.
Date: Mon, 13 Apr 1998 17:50:16 -0700
Subject: A hint into Cockeye
To My Pretty:
This is Harley from Deadbolt. I just read your piece on "Cockeye." Baby, I dug it! Now you can plan for your funeral for I am about to reveal the "Cockeye Story."
In the summer of '93, my brother John was working at a restaurant in San Diego. One of the Mexican dishwashers had a cockeyed-look, one eye looking to the left, the other straight ahead. After many beach parties with Tecate and Tequilla, he actually started to like the name we had given him - "Cockeye." He was a funny guy and his wife was being visited by a "Sancho" while he was at work. A "Sancho" is a creep who tries to seduce one's wife while the husband is at work. One day he got a call from a friend who said Sancho was at his house with his wife. He threw off his apron, went home and stabbed the man repeatedly!!!! Cockeye was never seen again. Since living so close to Mexico, I assume he is there, and the mystery of Cockeye continues.....Now you know "who" is Cockeye....but do you know "Where" Cockeye is?
Give us a ring on our hot-line, 619-220-3330, and who knows, we may just spare you.
---
Date: Thu, 23 Apr 1998
Subject: wow
I love your page and plan to link it to my own (if that's okay). Mine is [link defunct]. My eyes are burning from staring at the computer screen and reading your files. It's okay, though. Definitely worth it!
Blondy
---
From: Tim Hansen
Subject: one last thing...
Date: Tue, 21 Apr 1998
Stay tuned for pics of my trip cross country with my answer to Wagner- the Wag-uum. Oh, and if you don't think the Wag-uum is "worthy" enough, VacuGas.jpg is a picture from early Day One. Later that day, I was pulled over in Illinois. And I conviced the Illinois State Patrolman to SIGN it. And he gave us the marker. So we had more people sign it. Like the guards at Graceland, and the Cajun Lady...simply unbelieveable, and Cowboy R from the Ft. Worth Stockyards...the video clip from that is priceless. I'll try to get audio.
I also want to get YOU, yes YOU, Deuce, to sign it.
Yes, now I ask you the question that perplexed people for 2300 miles-
Deuce, will you sign my vacuum?
but of course
---
Date: Mon, 20 Apr 1998
From: Bobby Medus
Subject: wagner
Hey there,
Enjoyed meeting you and Ms. Felicia at the Art Car Ball here in Houston.
That was a great party.
---
Date: Fri, 17 Apr 1998
From: Cliff Davis
Subject: Wagner
I enjoy your site and check often for new stuff- the Wagner trip with BigRig reminded me that we have friends in common... I've known Brody Culpepper since our undergrad days at UC Riverside. I'm the guy that taught him the graceful skill of excessive beer-drinking. It was a proud day when we re-met after a few years and I realized he drank enough to kill three Marines. I contribute to the BigRig Manifesto occasionally.
That having been said, I wonder if Wagner is up for a little cross-country drive. At the end of August, I'm leaving DC (check my homepage for an essay entitled "Maryland- Nation of Retards") and driving back to L.A. I plan to see some quality ephemera, toaster-museum kind of stuff, and of course get drunk and tour Graceland. Last time I was at Graceland, I was wearing a t-shirt that said 'Elvis Blew Me' in big black block letters. We folded it up and left it in the gift shop across the street...
Thanks for having something interesting to say.