Marlene Dietrich's ABC
by Marlene Dietrich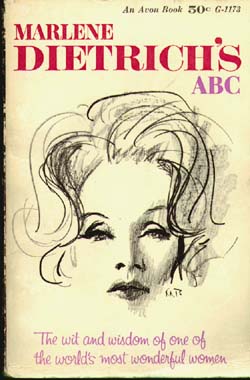 Hear from The Big D on an alphabetized variety of subjects such as:
Iceland ("Should be called Greenland. See GREENLAND.")
Greenland ("Should be called Iceland. See ICELAND.")
Ice Water ("A curious American beverage.")
Ozone ("I adore the smell of it.")
Salvador Dali ("Don't let the shiny side fool you.")
potatoes ("I love them. I eat them.")
up ("Look there.").