The Bible in the Hands of Its Creators
by Moses Guibbory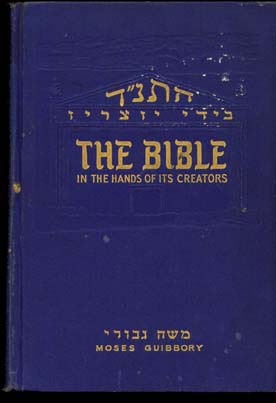 Once upon a time I was browsing through The Encyclopedia of Associations and saw a listing for "The Society of the Bible in the Hands of Its Creators."
Naturally, I wrote immediately.
But it turned out I'd been looking at an old edition of the The Encyclopedia of Associations; my letter was soon returned as undeliverable. I was inconsolable. (Exaggerating for effect, here.)
Yet, not one week later, the Society's official book turned up in a local secondhand store. This is even stranger than you might think: apparently only about a thousand of these were printed, so you'd have a hard time finding it in your local secondhand store. But take heart: if it is there, it'll be almost impossible to miss it: it's HUGE (almost 2,000 pages). My copy is #574, signed by Moses himself (Moses Guibbory, that is; the book's not that old).
As to the content, that's anyone's guess. Apparently it's a precursor to that whole codes-in-the-Torah effort that's gained steam in the past few years (and was featured in last year's independent film Pi).