! 1996aug15 gd>

---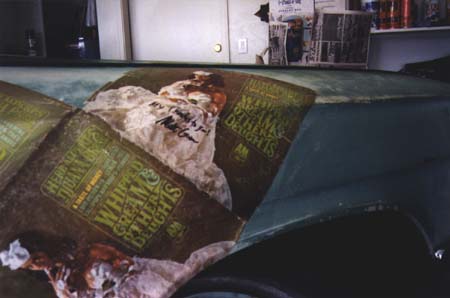 This is my prized Matt Gerson autographed Whipped Cream album, for which I found a place of honor on the front passenger side fender.
Mighty Matt meets Dreamy Dolores.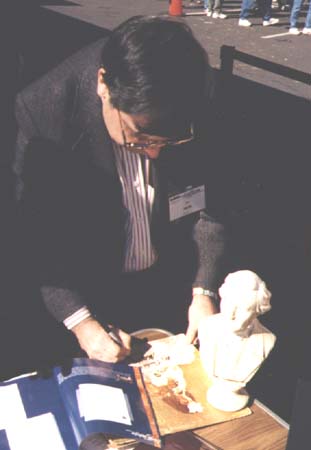 I always wonder about the history of things I get at thrift stores. I like the fact that many of the albums have been personalized. "Bud & Pat" ... "Stan" (my mechanic loves that one) ... and my favorite (aside from Gerson, of course), "Rose Godbehere." It's a cool name, and I also like to believe that she's somehow related to former Maricopa County sheriff Dick Godbehere. I also like the ones that have price tags, particularly the one sold by a place called "Dirt Cheap Records," and the one that simply says, "FREE" (a gift from Phoenix legend Johnny D.).

I wasn't completely satisfied with the effectiveness of my homemade paste. It seems that as the air dries out (it was somewhat humid when I began), the paste's adhesive property lessens. I went to Home Base in search of an alternative adhesive. The older gentlemen clerk didn't look terribly sympathetic, so, sparing him the details, I asked him simply, "What would I need if I wanted to put up wallpaper outdoors?"

He was silent for a few long moments. I could tell the answer was going to be along the lines of, "A good psychiatrist, pal." I waited. "You must be goofy," he finally observed thoughtfully. You don't know the half, I thought. He did recommend a decent spray glue, which I used to reaffix some of the albums, particularly on the trunk, where there had been a lot of rust.

Within three days Whip It! had full Whipped Cream coverage.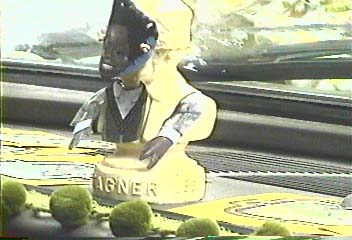 Insurance coverage would prove to be more difficult. My insurance company (Farmers) flatly refuses to insure any art car. They could (or would) give no reason. I explained that I wasn't trying to insure the car as an art object--I just wanted liability coverage. No dice. "No Oscar Meyer WeinerMobile, then, eh?" I asked. Nope, said my (now former) agent. Little Oscie would be so disappointed. So was I. I called a few more companies, but their rates were all too high. Then I called Geico. Yes, Geico. No problem! And cheaper for both my cars than Farmers was for the Mustang alone.
Of course, Geico doesn't know it's an art car, but should that really matter?
---

---







---
Main | Before | Transformation | Art Car Caravan | Art Car Ball | Art Car Parade | Aftermath

---

---