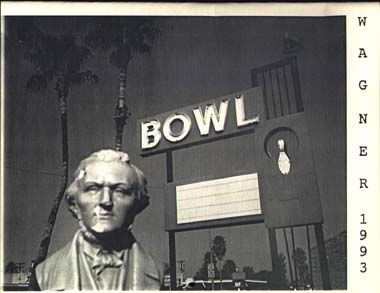 People have been asking us: When Oh When Will Deuce of Clubs Start Selling Wagner Gewgaws?
That time, friends, has come. The time has come to begin the ten-year long Wagner Calendar project.
---
| | |
| --- | --- |
| Very soon, Wagner (and therefore Deuce of Clubs) will be relocating both hindquarters and headquarters to a remote desert mountainside. | It is indeed a mad world |

The Meister's favorite avenue
What we're trying to say is, moving the Deuce compound is going to take take a little extra pocket change.

How can you help? Wow! We're so glad you asked. (Man, it's like this was all scripted or something!)
At left you can see what we know you must have instantly recognized as a representation of a piano keyboard.

(Turn your head ninety degrees clockwise. See it now? There ya go.)


W heads south -- way south
There are 88 keys on a piano keyboard. That means there are spaces for 88 names.

The way you get your name on the keyboard is by taking part in the Wagner Calendar Project.
A little background:

Deuce of Clubs issued a Wagner calendar, in recognition of Germany finally getting it together in 1990. It was a 1993 calendar. (It takes us a little time to get it together sometimes, too.)
| | |
| --- | --- |
| This is the Wagner Calendar that went out to opera lovers and opera houses worldwide. (Even Bayreuth? Yep. Of course!) | W at Howard Hughes' grave |
| | |
| --- | --- |
| W becomes Glitz Boy | The Wagner Project will make use of a signed & numbered edition of that very same Wagner Calendar. |
| | |
| --- | --- |
| It is a limited edition of 88 calendars, one for each key on the piano on which Franz Liszt worked out the Wagner transcriptions. (Actually, all pianos have 88 keys. You knew that.) | Wagner is the King Man |
| | |
| --- | --- |
| The King Man in Kingman (AZ) | Now, we may be a little out of touch, but we do realize that it has ceased to be 1993. |
But sit tight; the calendar will be current again ... in the year 2010. (Hell, that makes it practically a perpetual calendar!) That gives you a whole decade to prepare to use it. One does not take the Wagner Calendar lightly.
When you receive your calendar, you will also receive details of the fulfillment of the Project, where we will attempt to reunite the keyboard -- all 88 calendars, assigned keys/notes, and calendar owners -- on a specific date and place in the year 2010.
| | |
| --- | --- |
| The date will be marked in the calendar itself. The place will be vouchsafed to you in 2010. See you then! | The owls: not what they seem |
---
As an added bonus, with the Wagner Calendar, every day is a tiny reunified Germany.

That's right. 365 tiny reunified Germanies. If that doesn't convince you, THEN HOW MANY TINY REUNIFIED GERMANIES DO YOU NEED?
(What's that? You need 730 tiny reunified Germanies? Simple answer: BUY TWO CALENDARS!)
| | |
| --- | --- |
| To get your Wagner Calendar and begin the drive to 2010, send $12 (postpaid) to Deuce of Clubs. | Wonder Bar: Wunderbar! |
(Well-concealed cash is much appreciated; money orders are next best; checks come in a distant third.)

IMPORTANT: Be sure to include an address and/or phone number to which, according to your best guess, you'll still have some connection in the year 2010.