Those Unbelievable Believers:
The Blessed Sounds of
Incredible Christian Song Demos
#12 — "Chock Full of Love" (3:03)
This song is chock full of something, all right, and I'm pretty sure it's Madonna. There's a specific Madonna song I'm thinking of, but fortunately I'm not familiar enough with Madonna's output to say what it is. (And if you're wondering, I'm not familiar with Madonna's inputs, either, though I'm sure I'm in the minority there.) If Madonna had sung "Chock Full of Love," though, somehow I think she'd manage to find entirely different nuances lurking in lines such as. "Got Brother Jesus / He sure pleases / Feelin' / Chock full of love." Can you imagine the Madonna video for that? By comparison, the "Like a Prayer" video would have looked like a Billy Graham film. You so got off lucky, Pepsi.
If "Chock Full of Love" is by the same artist who sang "We Are the Champions (of God)," then "Chock Full of Love" = "God is love" = a theological endorsement of the doctrine of the indwelling of the Holy Spirit, viz., that the preposition (whether stated or implied in the phrase) is to be understood as within, rather than the more traditional Hebraic understanding, upon or among. (Cp. "the Kingdom of God is within [instead of among] you," which has caused incalculable amounts of murder & badness through the centuries.)
More to the point, though: does anyone else remember Chocks vitamins?
Did I hear a rumor that Chocks was yanked from the market for being carcinogenic or some crap like that? The package does say NO CYCLAMATES. I don't know. I do know that if they made candies that tasted like Chocks, I'd still be stealing them out of the cupboard all day long like I used to. I still do a double take when I see a can of Chock full o' Nuts, thinking of all the Chocks vitamins that must be in there.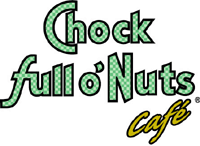 Come to think of it, could there be a finer name for this collection of gospel song demos than Chock full o' Nuts? Except for the grease spot. I mean, the trademark issue.
I got my Savior
Helpin' my behavior
And He's
Chock full of love
Got Brother Jesus
He sure pleases
Feelin'
Chock full of love
There is no room for separation
He's done all the preparation
I am His new creation now

Chock full of love
Chock full of love
Chock full of love
Chock full of love
I got the power
That made the flowers
He's makin' me
Chock full of love
I got His spirit
Yes, I am near it
Feelin'
Chock full of love
You think it's just infatuation
You don't understand the situation
You see, I am a new creation now
Chock full of love
Chock full of love
Chock full of love
Chock full of love
I know the Way now
I won't stray, now
'Cos I'm
Chock full of love
If I am giving
It's 'cos He's living
And He's
Chock full of love
There will be a final consummation
And a final celebration
And we'll be one holy nation soon
'Cos we're
Chock full of love
Chock full of love
Chock full of love
Chock full of love
Chock full of love
Chock full of love