01jan2007 to This Very Daggone Minute
Junk you may have missed and yet managed to live happily without:
---
---
---
---
---
---
---
---
---
---
---
---
---
---
---
---
---
---
---
---
---
---
---
---
---
---
---
---
---
---
---
---
---
---
---
---
---
---
---
---
---
---
---
---
---
---
---
---
---
---
---
---
---
---
---
---
---
---
---
---
---
---
---
---
---
---
---
---
---
---
---
---
---
---
---
---
---
---
---
---
---
---
---
---
---
---
---
---
---
---
---
---
---
---
---
---
09mar2007 — . . . lost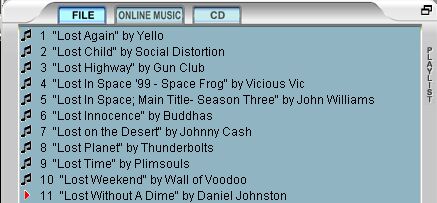 ---
07mar2007 — `Dishonest Abe' Hanged on President's Day
---
06mar2007 — On having at least some schooling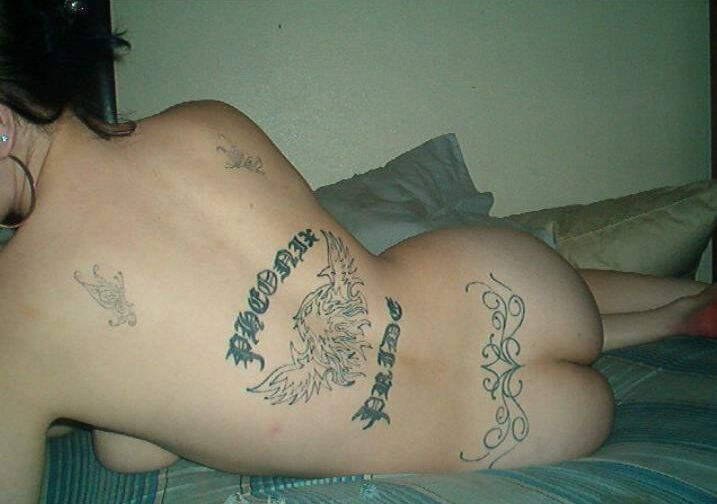 Hey, everybody! Let's proofread those tattoo designs out there! NO, I MEAN BEFOREHAND
(Still, you can't question her commitment to Sparkle Motion.) (See also)
---
05mar2007 — On compulsory schooling
School is the only universal institution, the only one not requiring a person to be ill, criminal, insane or possessive of some other deviant trait in order to be institutionalized. — Jeffrey Schrank, Snap, Crackle, and Popular Taste: : The Illusion of Free Choice in America (NY: Delta, 1977), p. 144.
---
03mar2007 — Solution
You may have run across one of the mottoes of our Fearless Cultural Mania section:
"A simple life with peace and quiet is better than faring luxuriously and being tortured by fear."
I had taken this phrase (cribbed from a school folder I bought in Korean-product-rich Douglas, Arizona) to be classic Korea-glish, but the Cardhouse Robot, via Google's cache of a disappeared page, discovered otherwise:

It's from S. A. Handford's translation of Aesop's Fables—specifically, the it's the moral to the fable of The Town Mouse and the Country Mouse.
PUBLIC NOTICE: Now accepting Aesop's fables with the moral Fearless Cultural Mania.
---
Proper behavior means always giving the appearance of unperturbed grace. This appearance is much easier to achieve if you really don't care about anything. And this is why people always seem to be on their best behavior right before they commit suicide. — P. J. O'Rourke, Modern Manners (p. 25)
---
01mar2007 — Spring training time and here am I still in California
Nevertheless, let us re-commence the Yankee-hating with Jim Caple (from The Devil Wears Pinstripes)
With a lineup that regularly features whites, Latinos, African Americans and Japanese players, today's Yankees are as racially and culturally diverse as the No. 7 subway train, but back in the Weiss era, their integration record was roughly equal to Mississippi's. . . . Elston Howard finally cracked the Yankee color barrier in 1955, but he still was the only African American in the daily lineup when he won the MVP award in 1963, the same season the Dodgers swept the Yankees in the World Series with a team that included five blacks in their regular lineup. The Yankees won fourteen pennants from 1949 to 1964, but their discrimination policy ultimately proved devastating for the franchise—the club's reluctance to sign players of color was a contributing factor to their mid-'60s collapse.
Not that that should be considered justification for racial discrimination. (10)
October 1, 1932: In one of the most dramatic moments in World Series history, the Babe steps to the plate and points to center field, where the cast of Fox's Arrested Development just happens to be sitting. (23)
If major league baseball returned to Brooklyn it would create excitement on a par even greater than if the city repaired the potholes. (183)
---
28feb2007 — From the underrated 1973 film Dillinger:
(Charles Arthur "Pretty Boy" Floyd has been holed up in a farm house and he sees the FBI driving toward the place.)
Farmer's wife: You need a Bible?
Floyd: I have sinned. I have been a sinner, but I enjoyed it. And I killed men—but the dirty sons-of-bitches deserved it. No matter how I figure it, it's too late for no Bible. Thanks just the same, Ma'am.
(He climbs out the window and is shot dead moments later, followed by an instrumental version of "Old Gospel Ship.")
---
27feb2007 — . . . get . . .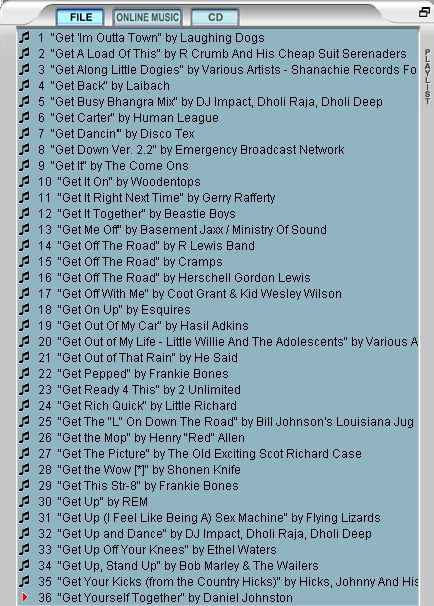 ---
25feb2007 — Remain In Light
From Brian Eno's, "Lessons in how to lie about Iraq" (17aug2003):
When I first visited Russia, in 1986, I made friends with a musician whose father had been Brezhnev's personal doctor. One day we were talking about life during 'the period of stagnation' - the Brezhnev era. 'It must have been strange being so completely immersed in propaganda,' I said.
'Ah, but there is the difference. We knew it was propaganda,' replied Sacha.
That is the difference. Russian propaganda was so obvious that most Russians were able to ignore it. They took it for granted that the government operated in its own interests and any message coming from it was probably slanted - and they discounted it.
In the West the calculated manipulation of public opinion to serve political and ideological interests is much more covert and therefore much more effective. Its greatest triumph is that we generally don't notice it - or laugh at the notion it even exists. We watch the democratic process taking place - heated debates in which we feel we could have a voice - and think that, because we have 'free' media, it would be hard for the Government to get away with anything very devious without someone calling them on it.
[Then, in what I would like to believe is a deliberate nod to an album he helped create, Eno says:]
It takes something as dramatic as the invasion of Iraq to make us look a bit more closely and ask: 'How did we get here?'
---
"Ya gotta go to Burma, before they get democracy." — Dr. Brody Culpepper, last night at Forbidden Island
(Apologies to Stuart Mangrum for the drunken phone calls.)
---
20feb2007 — Randumb BART
I. Bay area people apparently don't often randomly run into their pals on BART but after TradeMark G dropped me off at the 24th and Mission BART station, I boarded a train, heard my name, and turned around to find my pal Lori from LA.
(Not this Lori; this Lori.)
II. Outside Oakland's Lake Merritt BART station there was a guy listening to a shiny white Ipod with a shiny white cord that, against his leathery skin and dark, filthy clothing made him eerily resemble one of those Ipod ads.
III. As I awaited Wig outside the 16th & Mission BART station there was but a single notable phrase that blared through the megaphone wielded by a Spanish-speaking street preacher (until the cops asked him to leave off the amplification—the first time I was ever glad to see a cop), resulting in a New Website Motto:
---
17feb2007 — Reminder
I'll be loitering about the premises of the Victoria Theater tomorrow probably before and definitely following the showing of Mojave Phone Booth at Twelve o' Clock High. Well, I'm not sure I'll be high, but in either case, here's a nice writeup by Scott Beale of Laughing Squid, followed by further information (below):
venue: Victoria Theater (2961 Mission @ 16th)
tix & info: http://www.sfindie.com/site/node/119
enigmatic trailers: http://www.mojavephonebooth.net
further: http://upcoming.org/event/148478
---
14feb2007 — A Flying Fuck
Usually when people talk about fucking flies, they're not talking flies fucking.
And they're not even thinking about Valentine's Day.
Here at Deuce of Clubs, we break ground, Jack:
Fig. 1.1

Fucking flies
Have you heard the saying, As dull as watching flies fuck? Nor have I. Nor would it have occurred to me while watching flies fuck. For as they shared their love atop a prickly pear cactus fruit (how many Valentine's Day metaphors can you squeeze out of that?) many interesting features presented themselves for my note. For example, the fly on the bottom is hunched over a glochid tuft covered with tiny spines. Gosh, that must have been exciting. And see how she holds on to the bedpost. Rawr. And how he tenderly prepares to donkey punch her. And yet, at the same time, how annoyed they both look at being photographed in all their sexual congressional proclivity.
At length I broke up all the excitingness by harvesting tasty prickly pear fruit.
Except for one. Consider it . . . a gesture to love.
[More luv]
Update, 16feb:
Babsomatic writes "the synchronicity continues" referring to this post on boingboing (which continues its recent trend of reading my MIND):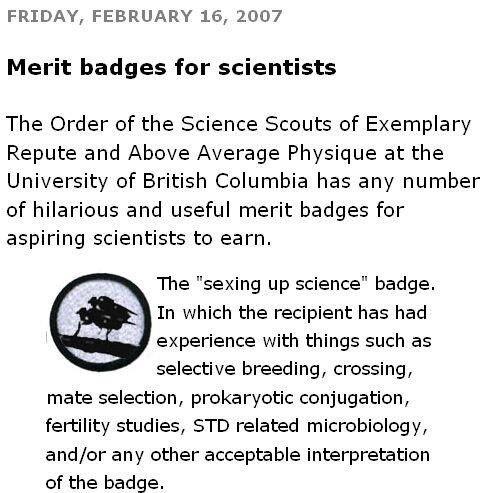 (Related link: ORDER OF THE SCIENCE SCOUTS OF EXEMPLARY REPUTE AND ABOVE AVERAGE PHYSIQUE)
Update, 17feb:
Dr. Brody Culpepper, DoC pal and scientist without portfolio to the website (and who has no website of his own, so instead I'll link to that of another of our scientist pals), pointed out that the Bruiser Queen recording by Cake Like [HOLY CRAP I just linked to fucking MySpaceDotFuckingCom], of whom we were speaking only yesterday, features the same motif: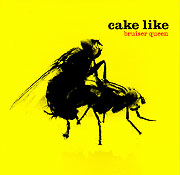 Great live band, that Cake Like was. In addition: the fucking flies.
Update, 17feb:
So, moments after uploading the Cake Like CD image, I find Brody and LBJ (not the president) watching National Geographic Strange Days on Earth with Edward Norton. It was the charming "Predators" episode, and as I walked in, flies were feasting on the carcass of a wolf-killed elk. Would they, could they, show flies fucking? The entire room broke up when, indeed, PBS dared to broadcast footage of a pair of red-eyed flies doing the Barry White thing.
Apparently, Kerri Kenney (of Cake Like) is currently in San Francisco, promoting the new Reno 9-1-1 movie. If I can just keep riding this chain of coincidence. . . .
---
13feb2007 — Dreamy Psychic Phun!
This morning I awoke as I was inexplicably dreaming of the "gunsel" from the 1941 film The Maltese Falcon, played by Elisha Cook, Jr.
Tonight I went to Pixar (courtesy of pals Brendan & Jessica) to see the 1972 film Blacula. And who appears in that film? Elisha Cook, Jr.
It's now 12:30 in the morning and I pull up boingboing.net. The first story: "Maltese Falcon swiped."
I read on. "The black statue was signed by actor Elisha Cook, Jr."
Then the movie's final line, referring to the Maltese Falcon itself, flashed into my mind:
What is it?
The stuff that dreams are made of.
---
11feb2007 — So I was at Bruno's for an afterparty following the Mojave Phone Booth showing at the tix & info: sfindiefest, and who's sitting across the table from me, right next to Putch if not Wig herself—Cynthia Wigginton, of Bermuda Triangle Service, taker of Wagner to Hawaii and partaker of our July 1999 Mojave Phone Booth trip.
And how did Wig like the film?
She hadn't seen it—she was at Bruno's for a party for a friend—our meeting was sheer random occurrence. Such was the Mojave Phone Booth.
---
09feb2007 — Off I go to San Francisco to show up at showings of the film Mojave Phone Booth on 10feb and 18feb.
venue: Victoria Theater (2961 Mission @ 16th)
tix & info: http://www.sfindie.com/site/node/119
enigmatic trailers: http://www.mojavephonebooth.net
further: http://upcoming.org/event/148478
Stop and be friendly!
---
08feb2007 — I went to art school in the seventies planning to work in museums. By the time I graduated in 1975, I'd worked in several galleries and a few museums, and spent the summer after I got out of school working at the NEA in Washington. During that summer, it suddenly struck me that that art world was stupefyingly boring. The women in their neat little suits speaking in hushed tones as they tiptoed through the hallowed halls of high culture, the savagely disdainful gallery girls, the cheap wine at the endless succession of openings, the truckloads of second-rate art people made a fuss over, the years it took to bring even the most modest idea to fruition—I wanted out!
— Kristine McKenna, "Burned Bridges & Vials of Blood," in Make the Music Go Bang! (ed. Don Snowden), p. 39.
---
07feb2007 — Let's. . .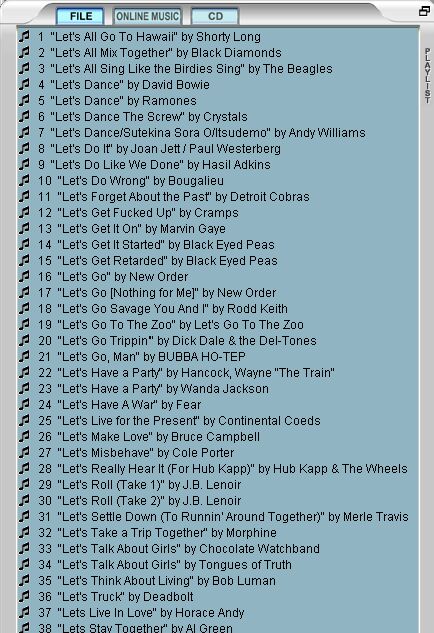 ---
If not for the Gories. I would've thought U2 was a great band.
— Margaret Doll Rod (quoted in metrotimes)
---
02feb2007 — Posterity
Is that conception where less of you is now than you hope there'll be later when you like to think now there'll be a lot when more than likely there will be even less than fuck all.
— J. P. Donleavy, The Unexpurgated Code
---
01feb2007 — The amazing Jane Espenson explains an inside joke:
Pipe Dreams
Remember when I told you that TV writers refer to exposition as "pipe"? Well, we do. Knowing that will help you understand this wonderful inside joke that I saw on an episode of Sci Fi Channel's Eureka. (The first line is from memory, so it's not exact.)
TAGGART
We're in some kind of labyrinth under Eureka. This must be part of the original network of conduits that takes care of the town's water and electricity and gas and sewage.
JO
That's a lot of pipe.
---
Don't call him! He'll come down!"
— Lori Petty, when my attorney called me from the bar where he'd run into her and mentioned my Wagner statue.
(I wasn't that drunk that day, was I?)
---
29jan2007 — Let's shoot the IRS—into space
LOS ANGELES, California (AP) -- Brian Emmett's childhood fantasy came true when he won a free trip to outer space.
But the 31-year-old was crushed when he had to cancel his reservation because of Uncle Sam.
Emmett won his ticket to the stars in a 2005 sweepstakes by Oracle Corp., in which he answered a series of online questions on Java computer code.
He became an instant celebrity, giving media interviews and appearing on stage at Oracle's trade show.
For the self-described space buff who has attended space camp and watched shuttle launches from Kennedy Space Center, it seemed like a chance to become an astronaut on a dime.
Then reality hit. After some number-crunching, Emmett realized he would have to report the $138,000 galactic joy ride as income and owe $25,000 in taxes.
Unwilling to sink into debt, the software consultant from the San Francisco Bay area gave up his seat. . . .
The IRS declined to comment, saying it does not talk about individual matters.

From: Robb L.
Subject: That's my girl
Date: Mon, 29 Jan 2007
I was driving to the airport earlier today (San Francisco) and called my wife to talk about our plans for the weekend. She told me this:
"I thought you'd like to know that our daughter is literally in tears because I explained that if she won $10,000 the government would take at least 35% of it."
I can't imagine how she'd respond if I told her about today's entry on DoC. If she gets that upset over a hypothetical situation, imagine how she's going to feel when the thugs start stealing her actual money.
---
"You ever heard of a 'control file'? . . . The people the system trusts the most aren't the ones you'd expect, the dedicated, loyal, virtuous types like you, Bill. Or like me, unfortunately. No, it's actually better for your career if you have a secret vice. Like sex with little boys or prostitutes, or cheating on your wife, or snorting coke, or taking money from the Saudis. . . ."
"How does anyone find out? I mean, how does the, ah, information get into a file?"
"Different ways, Bill, different ways. Sometimes it's disclosed voluntarily."
"Voluntarily?"
"Sure. Like the new initiates in those secret Ivy League societies who lie naked in the coffin or whatever and recite their sexual history and other misdeeds. And who knows what else goes on? But putting themselves and their reputations at the mercy of their peers, it shows they're prepared to serve the greater good of the group. If you want to reach real power in this town—in public office, elected or appointed, or in the big financial institutions, or big media, or the big think tanks and foundations, you've got to have a secret vice. Secret to the public, not to the insiders. And that vice is recorded in a control file, which means just what it says. Nobody gets to the top of the heap unless they have one." (154)
Hastie had known this moment was coming and had gone over it many times in his mind, struggling to find the resolve to do what he knew he must do. He smiled grimly to himself, having long ago discerned the fundamental weakness of the Regime. He possessed the ultimate weapon that could strike at the heart of that weakness: his consent; or conversely, his refusal to consent. Such a refusal always provoked an unjust response from despots, and therein lay despotism's fatal flaw. The man who was willing in any circumstances to proclaim, "No, I won't" was the most dangerous man in the world. (226)
"We're back where we started. The Fellowship is going to mint gold coins from your lost treasure. There'll be a coin issue in varying denominations for each Southern State. Tenth of an ounce, quarter-ounce, half-ounce, and one ounce. Silver, too, if there's enough there. We'll put the gold into circulation through the State Fellowship chapters. Each State organization will pay their staff, creditors, and vendors in gold coin. In light of the collapsing dollar and rise in gold values, many of these people will be delighted to accept them, and Southern States' gold will gradually enter the financial marketplace as the alternative to the inflated, collapsing Yankee dollar. People will automatically gravitate to the one that's viable, to the one that gives true value for value, instead of depreciating paper and digital money. It'll be an economic lifeline for those people who're willing to grasp it. And this is key: since one of the main attributes of political sovereignth is the ability to issue sound money, as people accept and use the Southern gold, they'll also be ratifying the political sovereignty of the Southern States." (272)
From Thomas Moore's The Hunt for Confederate Gold. (Pretty clunky; can't recommend it.)
---
23jan2007 — From Robert Twigger's The Extinction Club:
My favorite fact was the discovery that the Chinese had a system of volumetric measures that worked by sound. The measures were like scoops made from brass, and each size had a precise tone when struck. In other words, they were like bells that could be used to scoop precious spices, and because a tone could be so accurately determined, they were very accurate measures. If a trader with musical inclinations wanted a certain weight of something, he just hummed the right note. I decided this promising lead should be followed up, so I embarked on a mammoth reading of Joseph Needham's Science and Civilization in China. The gist of this huge work is to demonstrate how the Chinese thought of everything first. It makes dispiriting reading for confirmed believers in Western superiority. (30)
In the late 1970s, British local government officials, when told that only they, and not their families, would have a place in the command bunker, formally decided that if the bomb was dropped they would hurry home and ignore any orders to descend underground. (66)
A society of only victims and survivors is a stable society. Think of a prison in which no one wanted to escape or even take over the warden's office. Such a prison could run forever. If we can talk of society having its own mechanisms for self-perpetuation, then the survivor-victim dichotomy would be one such, very handy, mechanism. The survivor is useful to society. He provides a role model for a kind of dogged helplessness. The survivor accepts his powerlessness in the face of the power of the government. He hopes simply to survive, that's all. (67)
As long as he had his rear sight calibrated to the maximum, he might miss. Chinese soldiers often set their gun sights to one thousand meters on the mistaken assumption that the bigger number equaled more power. At close range their bullets went too high. (114)
---
22jan2007 — Today my back is pounding out a Cramps song: Let's get fuuuuuuuuuuuuuucked UP!
---
17jan2007 — Procrastination Test Results
Accuracy = 100%
Average Reaction Time = 0.65 seconds
Fastest Reaction Time = 0.42 seconds
Slowest Reaction Time = 1.06 seconds
Your score is 83 out of a possible 100
Usually a Procrastinator
You rank in the top 10% in terms of procrastination. That is, when it comes to putting things off, you often do so even though you know you shouldn't. Likely, you are much more free-spirited, adventurous, and spontaneous than most. Probably, your work doesn't engage you as much as you would like or perhaps you are surrounded by many easily available and much more pleasant temptations. These temptations may initially seem rewarding, but in the longer-term, you see many of them as time-wasters. Though you are likely incredibly productive just before a deadline, you might not get all your work done and there is a lot of unwanted stress. You may want to reduce what procrastination you do commit. If so, here are three tips that have been shown to work:
Goal Setting
This is one of the most established ways of moving forward on your plans. Take any project you are presently procrastinating and break it down into individual steps. Each of these steps should have the following three aspects. First, they should be somewhat challenging though achievable for you. It is more satisfying to accomplish a challenge. Second, they should be proximal, that is you can achieve them fairly soon, preferable today or over the next few days. Third, they should be specific, that is you know exactly when you have accomplished them. If you can visualize in your mind what you should do, even better.
Stimulus Control
This method has also been well tested and is very successful. What you need is a single place that you do your work and nothing else. Essentially, you need an office, though many students have a favorite desk at a library. For stimulus control to work best, the office or desk should be free of any signs of temptation or easily available distractions that might pull you away (e.g., no games, no chit-chat, no web-surfing). If you need a break, that is fine, but make sure you have it someplace at least a few minutes distant, preferably outside of the building itself. If you are unwilling to take the time to get there, acknowledge that you likely don't need the break.
Routines
Routines are difficult to get into but in the end, this is often our aim. Things are much easier to do when we get into a habit of them, whether it is work, exercise, or errands. If you schedule some of those tasks you are presently procrastinating upon so that they occur on a regular schedule, they become easier. Start your routine slowly, something to which you can easily commit. Eventually, like brushing your teeth, it will likely become something you just do, not taking much effort at all. At this point, you might add to your routine, again always keeping your overall level of effort at a moderate to low level. Importantly, when you fall off your routine, inevitable with sickness or the unexpected, get back on it as soon as possible. Your routine gets stronger every time your follow it. It also gets weaker every time you don't.
[ Take the Procrastination Test ]
Update, 18jan — Poetdog writes:
my attention span is so short I DIDN'T EVEN READ THE DIRECTIONS! then i was all like, what are those circles?
ok, i'll try it again.
---
16jan2007 — I'm visiting LA and it's cold as HELL these days. WHERE MY GLOBAL WARMING AT?
---
15jan2007 — From Joss Whedon's Serenity:
How did you decide on China as the other superpower in the story's universe?
Whedon: Well, have you seen China lately? (10)
Whedon: Jayne [Adam Baldwin]—bad guy. I never meant for him to be so lovable so quickly. . . . You found yourself going, "Oh! This is the Cordelia of the bunch, the guy who's going to say what everybody's thinking." I wanted somebody on the ship that we absolutely could not trust, but who in a pinch was good in a fight, but that as a person, we always were waiting for him to stab us in the back. (11)
Nathan is a genius of comedy—he turned from Harrison Ford to Franklin Pangborn on a very thin dime. (16)
I wanted to just say on the subject of blood, Camille [Calvert], our head of make-up, was doing Mal's make-up at the end of the fight and he was just covered head to toe in blood. And I said, "Okay, sweetie, we have to pull this back. I want to see that he's suffered, but this isn't Sorority House Massacre." And she looked at me: "Oh my God! Did you know? That was my first film!" And I was like, "I didn't even know it was a real movie!" (25)
---
12jan2007 — Down South U-Haul should be called U-Aul. That is all.
---
Robert Anton Wilson
18jan1932 — 11jan2007
Various medical authorities swarm in and out of here predicting I have between two days and two months to live. I think they are guessing. I remain cheerful and unimpressed. I look forward without dogmatic optimism but without dread. I love you all and I deeply implore you to keep the lasagna flying.
Please pardon my levity, I don't see how to take death seriously. It seems absurd.
RAW
[06jan2007]
---
There are physical types in the espionage game that we call The Little Gray Man—the guy who walks through the hotel lobby, gets on the elevator with a crowd of people, [and] five minutes after you get off the elevator, you can't remember that they were there. Just like looking through a piece of clear window glass. They're just not there. If you're the person that stands in line at the market [and] the clerk keeps waiting on the person behind you, you know you're gonna be a good spy. — Antonio Mendez, retired CIA operative, in Errol Morris's First Person ("The Little Gray Man")
I do believe. I just am not sure what it is that I believe. It is not as clear-cut as it once was. . . . I used to be able to draw a line and say, "That's good and that's bad." I can't draw that line any more. . . . My father told me years ago, "Moishe, life is a holem." A holem means a dream. "That which was, can never be again, and it's just as much a reality as the dream you dreamt the night before. It's of no consequence." I didn't know what the heck he meant. . . . But he really was a wise guy. [Laughs] Withdrawn! Make it "a wise man." A wise guy's an entirely different thing! — Murray Richman, mob lawyer ("The Only Truth")
---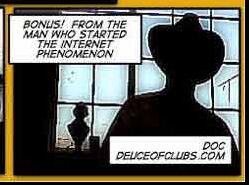 Har. Wagner and I are cartoons, as well as Cujo. (Not shown: the laptop Jack Diggle.)
---
02jan2007 — Appropriate year-beginning phrase from Thomson