The Supremes: A Saga of Motown Dreams, Success, and Betrayal
Mark Ribowsky (2009)
But if these estimates are right, the Supremes, who likely would have racked up four gold and two platinum records, can be considered the third most profitable act in pop music history in terms of album sales—again, save for the Beatles and Elvis, but ahead of even the Rolling Stones.
(For confirmation of the rhythm-and-blues root of the Supremes' songs, take a listen to Lamont Dozier's slowed-down and grittified renditions of several of them on his 2004 CD Reflections Of on the Lightyear label.)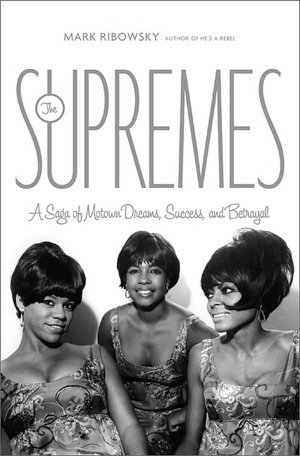 And their effect on the industry? We are talking cosmic. The Supremes, after all, took Gordy light-years beyond his original mission with Motown, which was an admirable one: to see to it that white power brokers wouldn't annex and profit from the talents of new black artists and songwriters.
And while R&B purists came to prick Gordy for his post-1963 assembly line of "black bubblegum," those records formed the DNA of soul music in the '70s and beyond, spread at first by Motown expatriates like Holland-Dozier-Holland and Philly soul masters Gamble and Huff. In retrospect, Motown's real legacy—and thus the Supremes'— was something palpable in the '60s, and a prime example of music's most desirable word: "crossover."
"I look back at those days and I say, damn, how's that for history?" remarked Otis Williams. "There in one room you had what was gonna be the Supremes and in another the Temptations. You'd take a break and go to the water fountain and you'd hear Diana Ross and Eddie Kendricks from opposite ends of the floor. It was like a duet, 'cause you'd hear their voices together, which wouldn't happen on record for another ten years, when we and the Supremes did 'I'm Gonna Make You Love Me.' Too bad someone didn't make some tapes from those rehearsals. Imagine what them suckers would be worth today."
"The interesting part of that gig was that I got to see up close what a Supremes recording session must have been like, even if in a scaled-down way. I was standing in the control room with Berry after my bit was done—in one take, mind you—and we were watching Diana singing, and they kept having to do it over and over because she couldn't get it right when to start singing while listening to the music. Berry had to keep telling her through the intercom, "Now! Now!"and she kept screwing up, she couldn't follow anything. She couldn't get the feel of it on her own. Even on a little thing like this, he had to spoon-feed her. That was a real eye-opener. I could only imagine how much work she needed to sound the way she did on all those great records."
The heart of Motown, however, was a dank, unfinished cavern that could be entered only through the rear of the house and down a flight of stairs. Used as a darkroom by the previous owner, it had a dirt floor and cracked cinder-block walls. The room may have struck most people as a good place for a septic tank, but Gordy from the start wondered what the acoustics would be like when he could get some session musicians in there. It was that dingy basin—soon to be Motown Studio A—that Gordy built before anything else was renovated. Supervising its construction, he carried in the first piece of equipment himself—a rudimentary two-track recorder he bought from the deejay Bristol Bryant. Gordy would replace it with state-of-the-art equipment manned by brilliant music technology geeks, but Studio A—by intent—would forever remain a pit, never becoming modernized and retaining its ambiance as a grimy, sweaty, incorruptible geyser of live music.
All this racial de-emphasis crested with the Supremes, about whom there was a kind of subliminal obeisance to certain virtual realities. Berger, for example, never fielded a single offer for the girls from anyone but a white promoter. The contrast was especially stark when in 1967 Berger became the Temptations' manager. "Then, if a black promoter was on the line, it had to be for the Temptations. And not one black promoter ever called and said, 'I want the Supremes, too.' Never. It was understood that the Supremes' audience was white."
Whenever Diana had an objection to a bit of Cholly Atkins's choreography, Flo, watching her get all ruffled, would yowl, mocking Ross's adopted name, "Uh-oh, Miss Di-an-ah's gonna run and tell it, just watch." Everyone knew what she meant: Diana would complain to Berry and get her way. The comment was, as ever, right on the mark, and a hoot, and inevitably would play out like that; at the next rehearsal, the choreography would be done as Diana wanted.
"When we heard what the whole thing was about," recalls a still-shaken Jack Ashford, "we were afraid Joe Messina would be shot in the street for being white.
As popping flashbulbs coated them with streaks of lights, they posed in brightly colored mini-dresses with a beaming [Hubert H.] Humphrey—who likely didn't know "Baby Love" from "Rub a Dub," but was aware that he needed to shore up his support among black voters—and Diana read a prepared statement written by Gordy saying the group had "thoroughly research[ed] his record and talk[ed] to him for hours and hours." Buying not a word of this tripe, hardboiled political reporters began bombarding her with questions about issues. Not expecting to answer any questions, Diana didn't know what to say, and seeing her discomfort Humphrey shielded her by babbling that they had "discussed a greater emphasis on urban policy" and that "Miss Ross is very interested in the quality of life in the United States." "Yes, yes I am," she agreed meekly.
With no choice but to dip into the pool of recordings Diana had made for use as a solo, he settled on a cover track of a flop record Johnny Bristol had made during his early singing days as part of the duo Johnny and Jackey for Harvey Fuqua's Tri-Phi label in 1961— "Someday We'll Be Together," co-written by Bristol, Fuqua, and his partner Jackey Beavers. The track had been cut for Junior Walker and the All-Stars as a follow-up to the Bristol's "What Does It Take (To Win Your Love)," an enormous summer hit that year, already adding background vocals by Motown singers and by sisters Maxine and Julia Waters. Before the lead could be cut by Walker, Gordy redirected it to Ross, who laid down the vocals at a June session. The track was anything but subtle, Bristol having coated it with layers and layers of strings that buoyed rather pedestrian lyrics about regret and yearning. "Long time ago, my, my sweet thing / I made a big mistake, honey," it went, continuing, "Ever since that day / Now, now all I wanna do is cry, cry, cry." There was no happy ending, only, well, yearning—"Wanna say, wanna say, wanna say / Someday we'll be together / Yes we will, yes we will." The problem was that, all this schmaltz notwithstanding, Diana's vocal was borderline sleep-inducing. This caused Bristol so much concern that he opened his microphone in the booth and took to melodically prodding Diana, exclaiming, "You tell it!" and "Oh yes, baby!" as the song went on. His exhortations bled into her microphone and were recorded on the track. Even the Funk Brothers couldn't do much with it as the mix was overwhelmed with strings. In toto, Allan Slutsky says, the song, though "quite competent," is "not exactly a barn burner of a groove." Gordy in fact regarded the record as not entirely finished, mainly because of Diana's mordant vocal, which had some Motown executives wondering if the "someday" would be taken to mean that Diana was dreaming of a lovers' reunion in the hereafter, when both lovers were dead. Was it a rock and roll death song, like "Teen Angel" or "Tell Laura I Love Her"? Was it a suicide death wish? But Gordy was down to the nub, and heard something that worked. With no time to fiddle with tracks, Bristol's ad-libbed asides stayed on. Thus, the last Supremes single was a two-time hand-me-down from 1961 with background vocals from a Junior Walker session. It was a strange brew, for sure. It was also, as it turned out, the best song that conceivably could have served the purpose. Charmed as Gordy was, the song was heard only, and by huge numbers, as a dreamy insistence codifying that the Supremes would "be together" forever—not as an end at all because the end never would come for their music. All the "clans" in the world working day and night could not have come up with anything that inspired, and perfect. The rest was gravy; released as Motown single 1156 on October 14, 1969, it caught the wind from day one, seeming to reconstruct the Supremes' au courant sizzle whenever it was heard. It was in the Top Forty the week of November 15, crashing into the No. 1 spot six weeks later, the week of December 27—just as it was displaced from the top rung on the R&B chart after two weeks—when the Supremes were well into the Frontier engagement; though moved out after a week by "Raindrops Keep Fallin' on My Head," it would not leave the Top Forty for fifteen weeks—matching the run of "Love Child" and becoming the best-selling Supremes single ever. (Repeat caveat: With Motown records veiled in secrecy, even with Gordy long out of the company, few know how many it and other Supremes' records sold. An educated guess is that "Someday" has sold around a million and a half copies to this day, and over a million in its day, as did "Where Did Our Love Go," "You Can't Hurry Love," "Love Child," and "I'm Gonna Make You Love Me." Several others—"Baby Love," "Stop! In the Name of Love," "Come See About Me," "You Keep Me Hanging On," and "Reflections"—may well have done a million to date. Had Gordy ever opened his account books to the RIAA, Ross, Wilson, and Ballard would have earned as many as nine [Birdsong two] platinum records, all of which, plus perhaps four or five more, would have gone gold. Similar guesswork math applies to Marvin Gaye, Stevie Wonder, and Michael Jackson, whose sales figures were confirmed only after 1977.) "Someday" was a lightning strike that moved all of Gordy's plans forward. The official announcement of Ross's impending exit came in November. It also allowed him to use it as the anchor for the final Supremes studio album, Cream of the Crop. Released on December 3 with a mélange of B-sides and other middling Motown fodder such as the Syreeta Wright–originated "The Beginning of the End," and covers of the Beatles' "Hey Jude" and Dylan's "Blowin' in the Wind," Cream soured at No. 33 pop (though it did reach 3 R&B).
Almost as if there was a backlash against Ross turning her back on the Supremes, the fans were cool to her. When ticket sales lagged for her Las Vegas debut at the Frontier in May 1970, Gordy filled the house only after a promotion handing out fifty-dollar bills torn in half to passersby on the Strip, with the promise that they could collect the other half by attending the show.
When she told him, she recalled him saying, "Great, that's absolutely great!" Said Liles: "He sounded as if he was throwing streamers around his office." As Liles tells it, "For a long while, the public sentiment was, 'poor Berry Gordy—getting the shaft by hard-hearted Diana.' [But] Berry told me later that Diana's wedding day was the happiest day of his life. He said that she'd almost forced his hand, until at the last minute he'd realized, 'I can't marry this woman. This woman is as selfish as I am. I'm going to have to be kissing her ass all the time. I need somebody to kiss my ass.'" She concluded: "Berry revered the star but basically didn't like the woman," which seems a drastic oversimplification of their complex relationship.
Whatever the motivations and ensuing feelings, however, little actually changed between them except that they no longer shared a mattress. He still would attend many of her big appearances, and for Diana his being there always unleashed old emotions. Brown recalled that whenever Gordy was in the audience and Diana sung "Someday We'll Be Together," she would tear up, and "I knew she was crying for Berry."
When Gordy then tried pairing her with the red-hot but difficult Marvin Gaye, it nearly died aborning after Gaye refused to stop smoking pot around the again-pregnant Ross. "Man, don't smoke no weed," Gordy told him. "Diana's gonna have a baby. You don't want drugs around the baby." "Fuck Diana Ross," he said, saying stoned what so many around Motown had wanted to say for so long. "I'm gonna smoke this weed or I don't sing." As a result of the discord, it was decided that the only way to get the project done was for them to cut their vocals separately, at separate studios, never seeing each other. Thus, all those dreamy love songs on their two ensuing Top Ten singles and Top Thirty album were sung by two people who detested each other—something that seemed to be the overarching rule now at Motown.
For HDH, the early glow of Invictus/Hot Wax began to flicker as musical tastes changed, execrably, from the stripped-down soul and pop-funk of the early '70s to the syncopated miasma of disco, leaving HDH to have to keep up with the work of younger, lesser producers.
The service ended with the organist playing and a choir singing "Someday We'll Be Together," which might have fit the occasion except for the fact that Flo and Mary had not sung on the record.
"Motown 25" also provided one of the saddest footnotes to Motown history. None of the Funk Brothers were recognized and James Jamerson, who had virtually created the Motown "sound" with his ungodly bass licks, asked for a ticket and was refused. Dissipated by time and alcohol, he had suffered a mortal blow recently when his Sunburst Fender Precision bass—the only electric bass he'd used on hundreds of Motown sessions—was stolen from his home. He hadn't played a date in years, and on the rare occasions he spoke of his past he would say only that he'd "done all that Motown shit." Nearly broke, he bought a ticket to the show and watched from the balcony, unknown, as the songs he made immortal were given tribute. A few weeks later, on August 2, 1983, he died at 45 of cirrhosis of the liver, heart failure, and pneumonia, and was not given his due until 2000, when he was inducted into the Rock and Roll Hall of Fame.