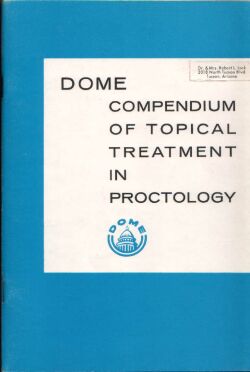 So I'm paging through this huge, huge, massive book I've had for a long time, called Diseases of the Skin, which is filled with repugnant photos of every kind of human skin disease.

Then things got worse -- I never noticed that stuffed in the back was a booklet called Compendium of Topical Treatment in Proctology.

Yep.

Filled with photos of assholes. Like a high school yearbook. But worse.

In the words of Jules (from Pulp Fiction): "That is some fucked-up, repugnant shit!"

AND NOW MY IMMATURE ASS CANNOT STOP LAUGHING.
---
From the Foreward:
From its founding, the House of Dome has concentrated on the formulation of pharmaceutical products specially designed for specialists treating skin diseases.... The purpose of the Compendium is to outline the salient features of treatment of the topical pathology related to proctology and to indicate the possible employment of Dome products for each disease.
"The House of Dome," sure, sure, but all I can think of is all these people with horrible ailments of the anus being asked, "Mind if I take a snapshot of your ASS?"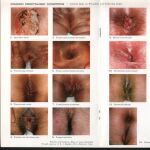 (And no, you can't see a larger scan. Sicko.)
(But if you must see ass, you can see this ass.)