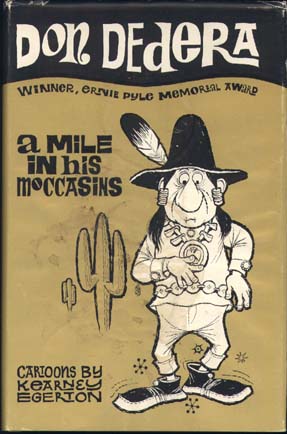 This one's out of print, but you can
buy a Different Don Dedera book
According to the jacket, this guy Don Dedera won an award -- for what ... stereotyping?
Hmmm ... moccasins, moccasins, mocking sins ... bet there are certain individuals out there who'd like to take a moccasin ... and kick Don Dedera's ASS!

(Actually, the book's fairly interesting and the stereotyping is mostly confined to Egerton's illustrations. And Don Dedera does tell the story of The Mystery Castle. On the other hand, it's not the most accurate Arizona history you'll ever read; for example, he repeats Tom Mix's lies about his war record. But the book's out of print anyhow, so whuddahey.)
Dedera also talks about Dendora Flats. Hmmm ... Dendora ... Dedera ... Dedera ... Dondero. What does it mean?
We. Just. Don't. Know.